Vandals Target Grieving Mom in Eagle Rock
KTLA News | October 29, 2010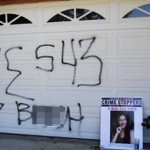 LOS ANGELES, Calif. ( KTLA) — An Eagle Rock woman whose daughter was murdered more than a decade ago has been targeted by vandals who spray-painted a threatening message on her garage door.
Anna Del Rio, who works for Crimestoppers, awoke Thursday to find "AVE 543" and "187" sprawled across her garage doors along with a profane word.
"187" is the police code for murder.
Del Rio believes she's being targeted by a violent neighborhood gang because of her work with Crimestoppers. She thinks the gang members have mistaken her for a police informant.
Image source: KTLA-TV