Oakland: Trial begins in case of double killing at Jack London Square bar
Paul T. Rosynsky (Oakland Tribune/Contra Costa Times) | October 30, 2013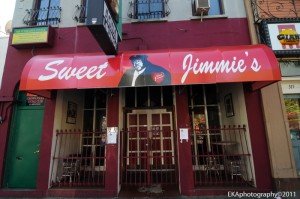 OAKLAND — Massacre. Bloodbath. Insane.
Those are the words, a prosecutor said Wednesday, that have been used to describe a shooting two years ago that left two men dead and five other revelers injured at a Jack London Square bar.
It was a shooting that resulted in "total devastation" and was perpetrated by two West Oakland gang members "on a mission to hunt down a rival gang member," deputy district attorney Tim Wellman said.
With bloody pictures of the victims flashing on a large-screen television, Wellman pointed to Clem Thompkins, 25, and Lamar Fox, 24, and told the jury of nine women and three men, "Their goal was clear — to kill."
Thompkins and Fox each face life in prison without the possibility of parole in the shooting that resulted in the death of Billy Jenkins, 26, and Adam Williams, 22.
Read more at: