'Gangs … become their church': Girl gangs just as deadly and largely ignored, expert
by Laura Angus (Flint Journal)
October 31, 2009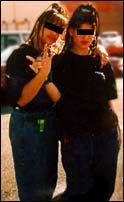 They are less organized and more obscure — but potentially deadly gangs nonetheless.
Members are being recruited from Flint streets and they operate as a social and sometimes criminal network.
The only difference? Their members are girls.
Gina Nyovane has felt the effects of girl violence firsthand.
Four years ago, her 14-year-old cousin Dequandra Holden was stabbed to death by another girl in a fight involving a large number of girls at a party in Flint.
It was never definitively stated whether or not any of the girls involved in her cousin's death belonged to a gang but Nyovane, a 22-year-old graduate of Flint Northwestern High School, has no doubt that loose gangs of girls are becoming more violent in Flint.
"I hear it all the time," Nyovane said. "Girls are quick to pull a gun out, faster than a guy."
Nyovane believes it comes down to social acceptance.
"Everyone gets involved like that's the thing to do," Nyovane said.
Gang warfare between rival female factions was apparently behind a Labor Day weekend shooting that left a man dead after a dispute between two girl gangs at a Mt. Morris Township skating rink.
After rival Flint gangs the Dufflebacks and the Goonies drove away from the rink, police say a 17-year-old member of the Goonies allegedly chased a Pontiac Vibe packed with nine Dufflebacks as her male passenger fired six shots into the Vibe.
The shots killed 18-year-old Maurise Sylvester and hit the driver in the leg.
The 17-year-old alleged Goonie was charged with first-degree murder and eight counts of assault with intent to murder and another woman and man also face charges in the shooting.
A senior at Flint Southwestern High School who was at the skating rink the night of the shooting said the existence of the Goonies and the Duffelbacks is common knowledge around school.
She said girls in these gangs refer to themeselves as "cliques" who share common beliefs and don't want to be disrespected.
"It's all about respect and they feel that talking isn't really going to solve anything — you gotta make your words real, put some pain in it," said the girl, speaking on the condition of anonymity.
Carl Taylor, a professor of sociology at Michigan State University, said the existence of girl gangs is rarely acknowledged.
"I think it's really very sexist to ignore girls, but that's what we do," said Taylor, who studied Detroit girl gangs in the 1990s.
But Taylor said females are just as vulnerable to the same factors that drive males into gangs — including lack of family structure and low self esteem.
Taylor said girls are becoming "a lot" more aggressive, and said the economic and social conditions in Flint make the city a breeding ground for girl gangs.
"When society fails young people, gangs … become their church," Taylor said. "Gangs can even become their schools, their parents. Gangs can even become their reason to feel good about themselves."
Others believe that gang activity remains more a male domain.
Victoria Klains, 16, said she has heard about girl gangs but sees boys as the ones getting involved in gangs, carrying weapons and dealing drugs.
"Girls fight," said Victoria, who attends Flint Northwestern. "I get in fights, but no gang stuff."
Sgt. Leigh Golden of the Flint Police Department said the city's girl gangs are not involved in violence as often as their male counterparts. She also described the girl gangs as more unorganized and informal.
Flint's streets and neighborhoods define its gangs, and most of them are small groups, she said.
The female gangs usually fall along the same neighborhood lines of the male gangs, like the Pierson Hood gang and Selby Hood gang.
Sometimes their ties are through the male gangs — as sisters, girlfriends or mothers to their children.
"The girls just kind of follow along with whatever the boys are doing in the neighborhood," Golden said.