Charlie Beck vows to focus on gang violence, quality-of-life crimes and more 'transparency' as LAPD chief
by Nicole Santa Cruz (LA Times)
November 4, 2009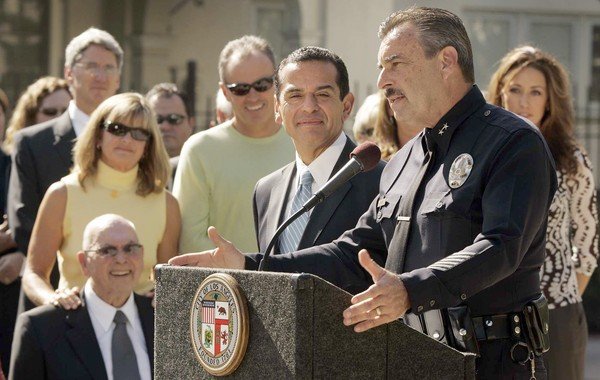 Charlie Beck, who has been tapped by the mayor to be L.A.'s new police chief, has told community activists that he wants to make police misconduct investigations more transparent and will focus on "quality of life" crimes and more community outreach.
Beck also said he wants to build up more programs that combat gang violence.
"If we don't develop ways to save our youth from gang violence, we will go through the cycle this city has gone through for four decades," Beck said at a gathering of community leaders Tuesday night in South Los Angeles.
Beck appeared to call for a continuation of some of the policies championed by outgoing LAPD Chief William J. Bratton, among them cracking down on small crimes as a way of preventing larger ones.
"As businesses thrive, a community becomes safer," Beck said. "It's not just about businesses. It's about family; it's about schools; it's about quality of life."
Beck, currently a deputy LAPD chief, also told the group that the community needs a better understanding of how the department investigates claims of police misconduct. He did not provide specifics about how he would improve "transparency" but said it was a goal.
Beck outlined his philosophy for how the LAPD should work with the community. He said officials need to listen to those people who have opinions different from their own.
"When you do that, you build unlikely partnerships," he said.
Beck said he needs to spread that message through the department. "This can't just be Charlie Beck's philosophy. It needs to be everyone's philosophy."
Some activists at the meeting expressed support for Beck.
Vicky Lindsey of Project Cry No More said, "He is more on the ground, and it's not speculation. He's real."
Sherri Williams, principal of 99th Street Elementary School in Watts, said Beck is a great choice. "It's a big task, but he's going to do well," she said.
Beck, whom Mayor Antonio Villaraigosa picked to be chief Tuesday, faces a confirmation vote from the City Council in the coming weeks.