Four arrested in fatal shooting at Santa Monica park
by Robert Lopez
November 6, 2009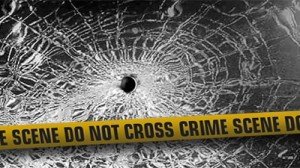 Four reputed gang members were booked on suspicion of murder Thursday in connection with a shooting at a Santa Monica park that left one man dead and prompted police to beef up patrols in the area, authorities said.
The shooting occurred shortly before 9 p.m. Tuesday at Virginia Avenue Park, next to a police substation and recreation center where the city's Police Activities League sponsors sports programs to help keep youths out of trouble.
Santa Monica police said they had teamed up with Los Angeles Police Department detectives to determine whether the attack was connected to a deadly shooting several hours earlier in Venice. One of the alleged gang members taken into custody was from Venice, Santa Monica police said.
"Our detectives are working with LAPD detectives to see if there was any commonality between the two shootings," said Sgt. David Hunscke of the Santa Monica Police Department.
As two attackers neared the park, Richard Manuel Juarez, 20, was with three Santa Monica High students, officials said.
The assailants fired multiple shots at Juarez and the others, police said. The three students ran away and were not hit, but Juarez was struck at least once. Paramedics pronounced him dead at the scene.
The two suspects, along with two others who were in a nearby car, were taken into custody after a patrol officer heard gunshots and saw two people running from the park area, police said.
Police said they arrested Patrick Dwight Birdsong Jr., 18; Norman Lovan Cole, 33; Sean Alex Mermer, 29; and a male juvenile whose name and age were not released because he is a minor.
All four were booked on suspicion of murder, attempted murder and promoting a criminal street gang, police said. Cole and Mermer also were booked on suspicion of violating parole.
Juarez was a graduate of Olympic High School, said Oscar de la Torre, a board member of the Santa Monica-Malibu Unified School District.
"He was a good kid," said De la Torre, who also is director of the Pico Youth & Family Center, which offers tutoring and music classes for local youths, and worked with Juarez at the center. "He was in the wrong place at the wrong time."
Workers at Virginia Avenue Park said Juarez often was at the recreational center and described him as well-mannered. He had just finished an art class there before he was slain, friends said.
The park is in the city's Pico neighborhood, which has struggled with poverty and outbreaks of violence over the years. The area is home to the city's largest proportion of Latinos and African Americans.
"It's hard to understand it because there are so many good things that the city is doing," said Aranzasu De La O, 26, a Harvard graduate who was raised in the Pico neighborhood and worked with at-risk youths at Virginia Avenue Park.
Her 15-year-old cousin was killed in 2006 near the park. Police said he was mistaken for a gang member by his attackers, who were members of a gang.
"It's just bad," De La O said of the violence.
Several hours before Tuesday's slaying, a 19-year-old man was gunned down in Venice's Oakwood neighborhood, which also has endured its share of gang violence and drug dealing over the years.
William Charles McKillian Jr. was walking in an alley in the 600 block of Westminster Avenue in Venice when he was confronted by at least one attacker who opened fire. No arrests have been made in the slaying, which happened about 3:30 p.m., the LAPD said. Police said Thursday that they had not identified any suspects.
Authorities in Santa Monica said they had increased patrols and would be out in force Friday at Santa Monica High's homecoming football game.