Drug violence costing Mexico $350,000 per day in lost natural gas production
MARK STEVENSON (Associated Press)
November 11, 2010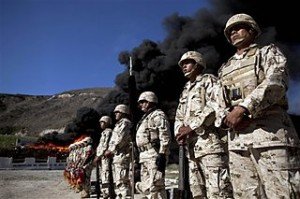 MEXICO CITY (AP) — Threats and violence by drug gangs are preventing some government oil workers from reaching installations in northern Mexico and costing state-owned Petroleos Mexicanos about $350,000 every day in lost production, a company official said Thursday.
The official said Pemex has shut down the equivalent of about 100 million cubic feet of natural gas production per day. He talked to The Associated Press on condition of anonymity, because company rules do not allow him to be quoted by name.
That amounts to about $10.5 million per month, or about 2.3 percent of Mexico's $450 million per month average in monthly natural gas revenues.
The lost production is centered in the Burgos gas field near the east Texas border in an area where drug gangs have threatened and kidnapped Pemex workers at some the company's installations.
Read More: Visit Here