One of LAPD's most-wanted fugitives, sought in four killings, is captured
By Joseph Serna / LA Times
November 14, 2014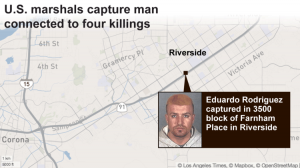 A fugitive connected to four killings and considered one of the Los Angeles Police Department's most wanted criminals has been caught, federal authorities announced.
Eduardo Rodriguez, 35, was captured by U.S. marshals on Thursday in the 3500 block of Farnham Place in Riverside, where he had been living under an assumed identity for five years. He has been wanted by the LAPD since 2003.
Rodriguez was second in command of the Toonerville street gang when he was indicted in 2003 on four counts of murder and two counts of attempted murder. He worked under Timothy McGhee, who has since been convicted of three murders but is believed to have killed at least a dozen people.
Rodriguez was wanted in connection with the 2001 shooting death of Margie Mendoza, 26, a mother of three who was gunned down in Atwater Village while sitting in her boyfriend's car.
Information on the deaths tied to the other three murder indictments was not immediately released.
Read more here: http://www.latimes.com/local/lanow/la-me-lapd-most-wanted-20141114-story.html