Crime? What Crime?
Crime? What Crime?
By Dan Frosch
Published: November 15, 2006
Cover illustration by Rudy Gutierrez; cover design by Angela Moore.
Santa Fe has been quietly growing more violent. Is it time to make some noise?

Joey Trujillo and his friends were finally ready to get some sleep.
It was nearly 1:30 am, and the close-knit crew of high school skateboarders were coming off a long night. First, they'd seen a late showing of Beerfest at UA DeVargas. Then it was off to the Atomic Grill for chili fries and conversation. Now, it was time to head home.
As the boys strolled toward their cars off Guadalupe Street, parked near the skate park they often
Both Joey Trujillo and his mother, Mary, are identified in this story under pseudonyms to protect their identities. The pseudonym "Joey" was originally used in an op-ed column in this paper [Reader, Oct. 4: "Don't Forget"] by the Trujillo family's friend Kendra Loring.
frequented, a silver Chevy Suburban pulled up beside them.
"Southside!" somebody shouted from inside the truck.
The suburban continued to slow. Trujillo started running. They all started running.
A wisp of a 16-year-old who stands barely 5 feet tall, Trujillo has no memory of the group of boys, about his age, who allegedly caught him a few seconds later. He doesn't remember being knocked to the ground, kicked and beaten with baseball bats and bottles, and he doesn't remember the helicopter that airlifted him to Thomason Hospital in El Paso.
Trujillo suffered a fractured skull, bleeding in his brain, a ruptured eardrum and three broken fingers in the attack. He nearly died. On Oct. 19, police arrested one 14-year-old and charged him with aggravated battery with a deadly weapon—a baseball bat—in Trujillo's attack. Police have not ruled out the possibility of more arrests.
Local law enforcement point to Trujillo's Aug. 27 beating as an example of the new crime wave in Santa Fe.
Although the assault and murder rates are slightly lower this year than last year, the level of violence in these assaults is increasing, as evidenced by the heightened number of attempted murder charges filed this year. There are more weapons and more drugs, and the perpetrators and victims are getting younger and younger.

Police arrest an underage drinker on a recent night in Santa Fe and find a surprise: a semiautomatic rifle with multiple ammunition clips in the backseat. (Photos by Will Foley.)
Just last weekend, in the early hours of Nov. 11, a 20-year-old Santa Fe woman, Desiree C De Baca, allegedly shot and killed Eugene Bustos, 26, with a shotgun after a brawl broke out between young people on Rosina Street. Other high-profile acts of violence this year include the shooting of a 20-year-old in a botched drug robbery as well as numerous assaults.
Cops, child counselors and nonprofits that work with at-risk communities all profess different theories for the recent rash of violence. But they all agree on one aspect of the problem:
"This is not random," Santa Fe Police Captain Gary Johnson, co-commander of criminal investigations, says. "We've seen it. Every single night, there's an act of violence. But I think most people in this city have been oblivious to what's been happening."
Indeed, the idea that these and other crimes are part of a larger phenomenon of violence has gone largely unnoticed—eclipsed, ostensibly, by the frenzy of state and national elections, by art openings and architecture forums, and by a socioeconomic chasm that has long haunted the City Different.
The radio coughs, sputters and spits, as if trying to unburden a secret.
"…We have a domestic at the intersection of St. Francis and Siringo in a red Altima. The husband is out of control. Can you head that way?" The dispatcher's voice crackles over the police radio.
Santa Fe Police Officer Jimmy Madison jerks
Like other local police, Officer Jimmy Madison says he's been much busier dealing with violent crime these days. (Photo by Dan Frosch.)
his foot against the accelerator of his police cruiser and grabs the intercom that connects him to the Santa Fe Regional Emergency Communications Center.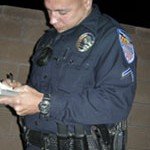 With sirens wailing, the police car shoots across St. Francis Drive and up to the Nissan. Madison jumps out and moves to the driver's side window. Two more officers approach from the shadows, their vehicles having slunk silently up Siringo from behind.
Within seconds, a hooded man emerges from the backseat of the car, at the officers' behest, and the questioning begins. After 10 minutes or so, Madison walks back to his cruiser.
"The guy is drunk, and his wife got scared. She doesn't want to spend the night with him. The other officers will take care of it. There's other stuff going on tonight we need to
According to Santa Fe County Sheriff Department statistics, most major violent crimes—murder, assault and sexual assault—are down in the county over the past six months, when compared to the same period in 2005.
check out," he says brusquely. "Usually, it takes a little while for things to get going on the graveyard shift. But not lately."
It's a familiar refrain. Police have been unusually busy this year. Between Jan. 1 and Nov. 13, there were seven attempted murders—more than there were during the same time periods in 2004 and 2005 combined.
"The incidents we're seeing—there are more weapons involved and we're seeing more cases that could have resulted in death," Santa Fe Police Lt. Phil Lahargoue, co-commander of criminal investigations, says. "We've been lucky."
Lucky like Thomas Quintana.
On the afternoon of April 9, 20-year-old Quintana was shot in the lower jaw with a 9 millimeter handgun while sitting in his Chevy Tahoe on Yucca Street. Quintana survived. Two days later, Patrick Herrera, 31, was arrested and charged with attempted murder. According to
Santa Fe Police Captain Gary Johnson says his officers are at greater risk now than they were 10 years ago.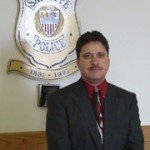 (Photo by Marlon Heimerl.)
police, Herrera was trying to rob Quintana of cocaine and money.
"The types of traffickers we dealt with 10 years ago were less violent than the ones we're seeing today," Johnson says. "These days, we bust some guy with marijuana and we find weapons."
Police claim that bolder, more expansive drug networks and a resurgence of gang activity are to blame. "We're seeing the kids of old gang members we dealt with who are now in junior high and high school," Bryan Gonzales, the lone gang specialist for the police department, says. "It's all starting to surge right back again."
Whether police are right and drugs and gangs are to blame for the increase in violence, everyone agrees that criminals are getting younger.
Donna Dagnall, lead child prosecutor for the First Judicial District Attorney's Office in Santa Fe,
Santa Fe Police officials say they were recently contacted by US Immigration and Customs Enforcement with a warning that members of the Mara Salvatrucha 13 (MS-13) street gang had been spotted in Santa Fe. MS-13 was birthed in Los Angeles during the '80s among young El Salvadoran refugees, many of them products of a bloody civil war in their home country.
says she's been surprised by the number of cases that have come across her desk involving violent crimes committed by juveniles.
Last year, the First Judicial District Attorney's Office tried five juveniles as adults for the severity of their crimes in Santa Fe County. This year, that number is up to eight. Those cases included juveniles facing charges of kidnapping, assault, battery with a deadly weapon and robbery.
Some of the most noticeable youth violence has occurred in local high schools. On Sept. 12, two Santa Fe High School students, ages 14 and 15, knocked a teacher unconscious after throwing rocks at the teacher's head. The teacher suffered a concussion and ended up in the hospital. Close to 20 teachers at Capital High School held a protest
Though police records indicate sex crimes in Santa Fe are slightly less frequent when compared with last year, Barbara Goldman, executive director of the Rape Crisis and Trauma Treatment Center, says her organization's hotline has been receiving more calls every year. According to Goldman, Santa Fe still remains in the top 10 cities in the nation for reported rapes per capita.
on Oct. 23 after a special education student assaulted a teacher there. The protest called for an end to violence at Capital and for more measures to protect teachers and students alike.
It's not only the high schools. On April 19, a 13-year-old student at De Vargas Middle School was arrested for shooting a 15-year-old in the hip after a dispute near the school. Recently, Dagnall was referred a case in which an 8- and 9-year-old were caught carrying knives at Kearny Elementary School.
"We're seeing a lot of violence between kids in middle schools," Dagnall says. "It's not like I came from a quiet little place either. When I say it's bad, it's bad. It's frustrating. I want to know why this is happening."
It's 9 pm and quiet on Hopewell and Mann streets, home to a Santa Fe Civic Housing Authority complex. This area, like that of another public housing complex off West Alameda, is one of the city's nexus for criminal activities. But some say it's not just poverty that creates crime; it's the presence of poverty in conjunction with wealth.
"Wherever there is income disparity, there is more crime," Sara Koplik, a program manager for the advocacy group New Mexico Voices for Children, says. "And Santa Fe is incredibly disparate—to the level of Latin America. That's what makes this city different."
For some, the recent Design Week events in Santa Fe provided an illustrative example of this disparity. On the evening of Oct. 22, a large, multigenerational
Some local police often focus on traffic stops during the first part of their shift, before the night gets too busy with calls. (Photo by Will Foley.)
crowd filtered into El Museo Cultural de Santa Fe to kick off the city's second annual Design Week, an eight-day series of events dedicated to improving Santa Fe's urban planning.
There were 5,000 people who attended the events of Design Week, which was sponsored by the city's Economic Development Division and generated a groundswell of community support and resources (the event cost approximately $285,000 in city dollars and approximately $92,000 in private donations).
During the same week, police were dealing with the 23 violent crimes that occurred throughout the city: one attempted murder, one sex crime, two robberies and 19 assaults. One of those crimes occurred on Oct. 28 when a 28-year-old Santa Fean named Angelo Gonzales stabbed a Mexican immigrant man in the neck after a fight outside an apartment on Espinacitas Street. The man survived, and police subsequently charged Gonzales with attempted murder and a hate crime; police say he shouted an anti-Mexican epithet before the initial fight.
But community response to what has been basically a new crime wave has been mostly nil.
"I don't know if there really is a full awareness of socioeconomic problems in Santa Fe, because there hasn't been a big response to the violence that's taken place," Christina Maxwell, director of the Santa Fe Community Partnership, says. "A lot of people come here from other places—this is a second home for them, a vacation spot—and they don't see the other half of the city."
The Community Partnership works in poor neighborhoods around Santa Fe to help families avoid drug use, domestic violence and DWI. The organization also has a network of "block leaders" who help document criminal activity they may see in their neighborhoods.
Maxwell says the apparent apathy about taking on such issues is exemplified by the Community Partnership's struggle to gather food and jackets for its annual holiday charity drive this year. As a result, the organization will likely have to come out of pocket for a portion of the donations, she notes.
"It's frustrating. We work really hard, but there's still this lack of awareness, and there's very few resources coming forth," she says. "We would love for the people that live here for six months
Warehouse 21 organizers want to build a new, bigger facility to better accommodate the local community it serves. The current building, on Paseo de Peralta, will likely be torn down in the coming months. According to Adrienne V Romero, W21's community outreach organizer, the City Council is going to lobby the Legislature to help fund the facility.
out of the year to be more invested in their community. We would have loved to have some sort of a symposium on these issues, like Design Week."
Susan Sisneros, chief juvenile probation and parole officer for Santa Fe, Rio Arriba and Los Alamos counties, says she often wonders why Santa Feans aren't up in arms, given the level of violence.
"I really believe until you're impacted by crime, you're not going to be aware of what's truly happening," Sisneros says. "The problem is that until it impacts a person directly, oftentimes they just don't care."
To be sure, there have been times when Santa Fe, as a community, has cared. When 21-year-old gay man James Maestas was brutally beaten in 2005, a group called Parents and Friends of Lesbians and Gays of Santa Fe organized a candlelight vigil, which brought hundreds of Santa Feans, including Gov. Bill Richardson, to the Plaza.
For years, the Santa Fe Rape Crisis and Trauma Treatment Center has held its annual and well-attended "Take Back the Night" rally against violence. Other local, community-oriented groups, like the youth-oriented Warehouse 21, are constantly working at a grassroots level to call attention to the plight of youth in Santa Fe. Nonetheless, such efforts are often undercut by a feeling that not everyone cares.
"On the one hand, we have middle- and working-class parents who work so hard they don't have the time or the energy to respond to the violence in this community," Adrienne V Romero, community outreach coordinator for Warehouse 21, says. "And then you have racism, which is huge in Santa Fe. The people at the top move here, they call Santa Fe their home, but they won't participate."
Romero says her group needs far more volunteers than it currently has and also additional funding to
Adrienne V Romero, Warehouse 21's community outreach coordinator, has high hopes for W21's new facility, which is slated for construction in 2007. (Photo by Dan Frosch.)
beef up its staff. Currently, Warehouse 21 only has four full-time employees. Romero herself is only a part-time, contracted employee.
"In order to have a true impact on this community and really make a huge difference, we simply need more," she says.
Last month, in his State of the City address, Mayor David Coss spoke about the need to pay closer attention to violence in Santa Fe. Coss first started hearing about the rise in crime from citizens while stumping for mayor earlier this year.
"We've always prided ourselves as a community with a low crime rate, but I think we've seen some slippage of late," Coss says. "The police department has my attention and the city manager's attention as to what's actually occurring and some of the resources we need."
Coss points to a youth summit, proposed by City Councilor Carmichael Dominguez and slated for next year, as a substantive example of how the city plans on dealing with the growing rate of violence in Santa Fe.
"We can't avoid these issues—the violence and the drug abuse and the sexual violence," Coss says. "We have to hit on all of this at the summit."
Another method by which the city is attempting to address the level of violence is through the public schools. Tita Gervers, student wellness director for Santa Fe Public Schools, says many of the children who drift into trouble in the school system hail from families with a father, mother or brother who is incarcerated.
"One of the first things that we discover when a child whose behavior is difficult is referred to one of our counselors is that the child has incarcerated adults in their family. Their family life is unstable," Gervers says. "Those adults would otherwise be providing
JAN. 1 THROUGH NOV. 13 CRIME STATS FOR 2006 VERSUS 2005
Murders: 3 vs. 4
Attempted murders: 7—more than 2004 and 2005 combined
Robberies: 89 vs. 60
Assaults: 788 vs. 789
parental support, helping their children learn how to control their impulses."
The schools' efforts to combat violence are multifaceted. Staff and principals are being trained on how to respond to violence. The school district is examining more alternative programs for students struggling in the traditional school setting. And the school board is holding "safety study sessions" to further dissect the problem.
Still, Gervers says she would like to see the city and the state give more time and energy to examining the sociological impacts of incarcerated family members on local children, and believes there needs to be more support for families when a loved one is locked up.
"Right now, no one is taking the time to teach these families, and the children of these families, things like conflict resolution, anger management and alternatives to violence," she says.
Virtually everyone in the violence prevention business agrees that such collaborative steps are critical to combating crime. Nobody knows this better than Father Greg Boyle, founder and director of Homeboy Industries, a gang rehab center in the troubled Boyle Heights neighborhood of Los Angeles.
Boyle, who travels the nation speaking on youth violence, explains that Los Angeles was able to reduce its gang-related homicide rate from a staggering 1,000 in 1992 to 482 in 2005 by "doing
Tita Gervers, student wellness director for Santa Fe Public Schools, is working to understand the effects of violence in Santa Fe's public schools. A new state Health Department study shows that Santa Fe high school students display a higher rate of violence than the state average. (Photo by Dan Frosch.)
the comprehensive thing."
"Twenty years ago, the gang issue only involved law enforcement. Now we have clergy, teachers, interventionists, boys and girls clubs," Boyle says. "And that's how you can tell a city is healthy—when it's not just law enforcement, but all these other groups, and also the city at a cabinet level, that's responding. If it's just law enforcement attempting to do it all, then the community won't. And the community needs to be on board."
Alex Alonso, a gang expert in Los Angeles who has been studying the effects of street violence for more than 15 years, agrees that the community impact on violence in Los Angeles has changed the landscape of that city.
"No one really cared about the shootings and the killings in Los Angeles until a woman from the more upscale west side of the city was murdered. Unfortunately, it usually takes an extreme case like that for a community to cry out," Alonso says. "If the community where these crimes take place doesn't care, then nobody will."
In the early evening of Nov. 8, Joey Trujillo, his mother, Mary, and a family friend, Kendra Loring, sit at a back table in Blue Corn Café and Brewery and recall the attack that put him in the hospital for three weeks.
Trujillo still has visible bruises on his arms and lingering questions and concerns about his attack.
"I don't feel there's much communication happening between different groups in the community, and I really wish there was," he says quietly, pushing back a slip of black hair from beneath a ski cap. "I don't want this to happen to someone else."
His mother says that aside from police investigators, no one from the city has reached out to her about Joey. It's a
New Mexico State Police Captain Manny Gutierrez, district commander for Santa Fe, says his agency also has noticed a rise in crime in the areas it patrols. In particular, state police have noticed a trend in which people rob homes in Glorieta and Pecos and then sell the merchandise in Santa Fe to buy drugs.
gesture she would have appreciated.
"I want to know why this happened and what's going on in the community that causes this," she says angrily. "I grew up in Santa Fe, and it wasn't like this back then. Things need to change."
For now, however, they're not.
Around the same time the Trujillos and Loring sat down at Blue Corn to discuss these issues, police say 24-year-old Santa Fean Carlos Gonzales slashed a 19-year-old woman and her 18-year-old male friend on Paseo del Sol. Both survived, and Gonzales was eventually arrested, but not before allegedly attacking a second woman in Santa Fe.
Back at Blue Corn, a raucous Wednesday night crowd has filled the restaurant nearly to capacity. A basketball game blares from a television perched perilously over the bar. A group of laughing young locals saunter in that direction, beers in hand, past a well-dressed elderly couple who peer stoically around the restaurant in search of a free table.
Loring shakes her head.
"People are in denial here. It feels like no one cares. They think that it's this cute little artist town that welcomes people of all lifestyles. But they need to wake up."