Member of Avenues gang is sentenced in girl's murder
by Robert Lopez (LA Times)
November 19, 2009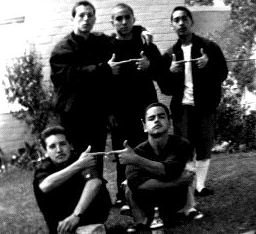 A member of one of Los Angeles' oldest and most notorious street gangs was sentenced today to 82 years to life in prison for the murder of a 14-year-old girl and the attempted murder of a second victim.
Eduardo Ruiz, 18, a member of the Avenues gang, was convicted in September of first-degree murder in the shooting of Cynthia Perez, who was struck by a stray bullet as she sat in a car at a Highland Park stoplight.
Ruiz, who was 16 at the time of the May 2008 shooting, was walking near the intersection of York Boulevard and Avenue 64 when he stared at his intended male victim, who was in a car. When the man looked back, Ruiz walked into the street and fired several shots, prosecutors said.
One of the shots missed, however, striking Perez — who was a passenger in an adjacent car — in the eye.
The Avenues gang, which has a number of cliques in Northeast Los Angeles, is named after the avenues that cross Figueroa. The group has longstanding ties with the Mexican Mafia prison gang and has been responsible for some of the area's most sensational murders.
In 1995, Avenues gang members shot and killed 3-year-old Stephanie Kuhen, whose family made a wrong turn onto a dead-end street in Cypress Park.
Several gang members were charged in connection with the 2008 murder of Los Angeles County Sheriff's Deputy Juan Abel Escalante, who was gunned down outside his parents' home in Cypress Park.
The gang, which police say has several hundred members, has been the target of city injunctions and federal investigations dating back a decade.