One Dead In Drive-By Shooting
One Dead In Drive-By Shooting
10th Murder In Area In Two Weeks
POSTED: 5:35 p.m. PST November 21, 2002
UPDATED: 7:24 p.m. PST November 21, 2002
LOS ANGELES — One person was killed Thursday in a drive-by shooting in South Los Angeles, according to police.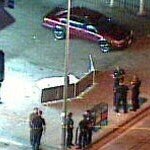 The killing makes this the 77th Division's 10th murder in the past two weeks.
The shooting took place at 46th Street and Western Boulevard.
Police said the shooting was gang-related. They are looking for four male suspects who were seen leaving the scene in a white Caprice.
Police say they are looking for four suspects. They roped-off a two-block area.