Six arrested after beating on high school campus
The Associated Press
11/22/2009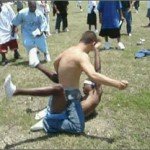 REDWOOD CITY, Calif.—Redwood City police have arrested six students after a 16-year-old student was beaten on the campus of Sequoia High School last week.
Redwood City police Capt. Ron Matuszak says the victim was knocked unconscious and suffered a concussion and a broken nose when he was attacked by a group of teens near the school's football field around 9:45 a.m. Thursday.
Matuszak says the teen was beaten because his attackers thought he was in a rival gang.
The victim denies being a member of a gang, but Matuszak says the six students arrested have all admitted to having gang affiliations.
A school district spokeswoman says the six students arrested could also face school discipline, such as suspensions or expulsions.