Former gang leader says he hopes to give at-risk youth 'a fighting chance'
Megan Craig (TribLocal) | November 22, 2010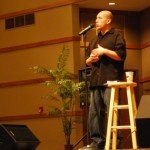 By the time he was 14, C.J. Sistrunk had been in more than 100 fights.
Sistrunk was on the verge of being kicked out of school when a friend suggested he attend a Friday evening session with a man named Ricky.
It's been a year since Sistrunk began regularly attending outreach meetings at Frontline Street Intervention in Round Lake Beach – and he's almost completely stopped fighting, he said, all thanks to former gang member Ricky Bueno, who leads the group.
Sistrunk said he could relate to Bueno, who he describes as "a short, funny guy." He didn't feel judged by the former Latin King – no stranger to fights and trouble himself.
Bueno had joined the gang at 14, bringing the violent, drug-infused culture to the Round Lake area. He recruited other Hispanic teens, then became involved in a string of criminal activity that didn't end until 1998.
He began dating wife Melissa "When he was living his old life," she said. They met through his sister, and at 18, Melissa became pregnant.
Bueno was in prison again by the time the baby – a daughter, now 13 – was born. He had also been in prison for the birth of his first daughter, whose mother is a former girlfriend.
"I needed to change my life," Bueno said. "I was tired of going to the penitentiary. I put my parents, my mother, through so much hurt. I hurt a lot of people."
It was during that stay in prison – Bueno's fourth – that he started reading the Bible in a solitary confinement cell.
"That's when everything changed for me," Ricky said. "I heard about forgiveness, and thought, 'I want this forgiveness. I want this peace.'"
Once released from prison, Bueno said he was motivated by the thought that if the Bible could change his life, it could change others, too.
"When I was on the street, I never had anybody come up to me and say, 'Hey, there's a better way,'" he said. "I gotta go out there … because I know they're hurting. That's what motivates me – to give these people a fighting chance."
Bueno started a group called Frontline Street Intervention, which offers outreach programs for people looking to remove themselves from dangerous situations. He became an ordained minister in 2008, calling many churches "underequipped" to reach some of those in the direst need of outreach.
"Since I've been there, since I've been through it, they can relate to me," Bueno explained.
Bueno's new life revolves around his family – which has grown to include another two children – and helping people like Sistrunk realize their non-violent potential through religious teachings.
Full article at: http://triblocal.com/grayslake/2010/11/22/former-gang-leader-says-he-hopes-to-give-at-risk-youth-a-fighting-chance/
Image: Megan Craig/Tribune