Bloods put their colors on for court in attempt to intimidate rival gangs
Thomas Zambito (DAILY NEWS)
November 28th 2010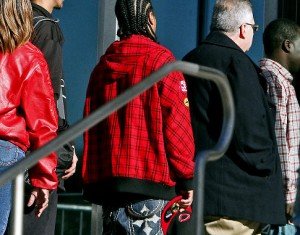 Each day, a dozen or more young men stroll into Queens Supreme Court sporting the Cincinnati Reds' signature red-and-black cap.
The fashion trend doesn't mean the borough has stopped rooting for the Mets in favor of this year's National League Central champions.
Veteran prosecutors say members of the Bloods – the largest and most dangerous gang in Queens – have worked the red "C" into their wardrobe in a direct slap at blue-themed rivals the Crips.
Queens' top gang prosecutor complains the brazen thugs wear the cap to intimidate witnesses or show solidarity with brother gangsters.
"They should not be coming into this courthouse wearing their colors," says Mariela Palomino Herring, the chief of the Queens district attorney's gang violence bureau. "This is our territory, not theirs."
Cops and prosecutors say the hats are an especially common sight in Queens because of the Bloods' strong presence in Far Rockaway housing projects for more than a decade.
In other boroughs, the attire is different – and not necessarily identifiable as gang-wear to the untrained eye.
Manhattan court officers say they see the black-and-gold Pittsburgh Pirates hat, a favorite of the Latin Kings. Brooklyn and Bronx court workers are also on the lookout for gang colors.
"We know the colors. We make sure no one feels harassed or intimidated in court," said one veteran Bronx court officer.
But authorities have no real power to crack down.
State courts have been guided by a federal judge's 2003 decision striking down efforts by a Nevada courthouse to ban bikers from wearing their colors.
But court officers say they can't ignore the color show. If they see a bunch of visitors in similar shades, they might swarm the courtroom with officers.
"If they know you're watching them, that's usually enough of a deterrent for them not to do whatever they want to do," said Lt. Phil Mansueto, a veteran state court officer who has worked in Brooklyn and Manhattan and teaches a training course on gangs. "We can keep an eye on them."
Not everyone wearing a Reds hat is a gang member. Rappers like Lil Wayne have made the cap so popular it's the No. 3 seller on Hatland.com.
Read more: Visit Here