Rio slum residents caught in crossfire of battle to pacify city ahead of Olympics, World Cup
JULIANA BARBASSA (Associated Press) | November 29, 2010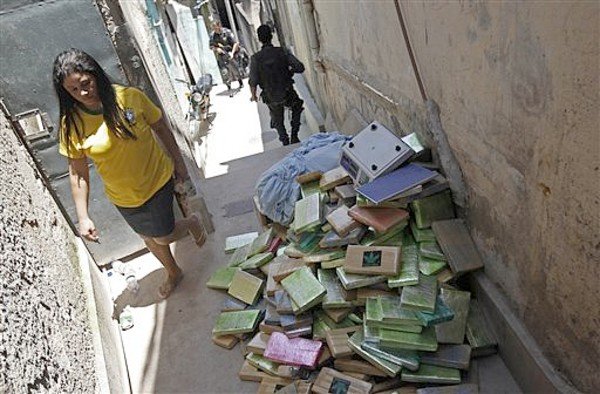 RIO DE JANEIRO (AP) — Jose Pereira's hand shook as he sat on a sidewalk and took a deep drag on a cigarette, trying to calm down after taking a stray bullet in the leg while police and drug dealers fought over the shantytown where he lives.
"They fight, but we're the ones who suffer, the residents," the 33-year-old bricklayer said just after police captured the slum amid heavy fire.
"How am I going to work now?" he said, motioning to his bandaged leg as he waited outside a hospital just outside the slum where he lives, his eyes tearing up in frustration. "I have three children. How are they going to eat?"
To the police who raided Vila Cruzeiro, it was a fortress for heavily armed drug dealers. To Pereira and tens of thousands of ordinary citizens, it was home. Kids went to school in the morning, and men like Pereira woke up at dawn to earn a living in the city below.
Suddenly the slum and others like it have become battlefields in Brazil's struggle to make Rio de Janeiro safe for the 2014 World Cup of soccer and the 2016 Olympics. Security for visitors was one of the things Brazil promised in its successful bid to host the games.
The favela, as the slums are known, rises above the hospital where Pereira sought treatment: a maze of rickety shacks, little more than tin-topped boxes of exposed brick, accessible only through steep, winding paths. Bursts of automatic weapon fire still rang out as he spoke.
Living in Vila Cruzeiro was never easy. The gangs saw the sprawling hillside as their territory, a haven from which to operate their business, protected from the law by difficult access, heavy firepower and the human shield provided by families like Pereira's.
Occasional gunfights broke out among traffickers, and residents shut themselves in at night, afraid of crime and the jumpy young men who ruled the place from the backs of their motorcycles. But life went on, Pereira said.
That fragile truce is over. Rio de Janeiro's governor vowed to break the back of drug gangs and bring the rule of law to places like Vila Cruzeiro.
Police forces during the past two years have stormed more than a dozen slums and set up permanent posts there in an effort to make the city more secure.
Just this week, police took Vila Cruzeiro and the Alemao complex of shantytowns in intense gunfights, with help from soldiers in camouflage, air force helicopters and caterpillar-tracked armored vehicles that rolled over burning tires and blockades at the mouth of the snaking alleyways.
Police planted Brazilian and Rio state flags at the peak of Alemao on Sunday — symbols of state authority in a community that were lawless for decades.
"It's over, the myth of their invincibility," said Rio state Public Safety Director Jose Beltrame, the architect of the pacification plan.
Approximately 50 people died during a week of police raids and drug gang attacks, and police say most are criminals. But the innocent suffered as well. Health officials say the youngest of those wounded was 2 years old, and the oldest 81.
On Monday, police hunted for as many as 200 gang members who may still be holed up in Alemao and set their sights on more conquests.
"This is a process and we won't rest on the laurels of our victory," said Rio Governor Sergio Cabral.
There are plenty of targets: Rio has more than 1,000 favelas, many of them under the sway of criminal gangs.
Once the police set up permanent posts, Rio Mayor Eduardo Paes is promising "an invasion of services," an investment of $230 million to refurbish schools, set up a local market, and build child care centers like those set up in favelas that were pacified earlier.
Full article at: http://www.chicagotribune.com/news/nationworld/sns-ap-lt-brazil-caught-in-the-crossfire,0,6888598.story
Image: AP Photo/Felipe Dana / November 28, 2010