Man shot to death in Salinas
25th homicide in '09 matches last year's record total
LAITH AGHA (Monterey County Herald)
11/30/2009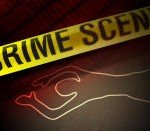 Far removed from his days of gang affiliation, Carlos Alfaro was a dedicated father of two and out-of-work bank employee.
Early Sunday, the 27-year-old Salinas man became the city's 25th homicide victim in 2009, a grim toll equaling the city's record for most homicides in a year.
About 1a.m., Alfaro was walking alone to his apartment on the 700 block of Williams Road after a night out, when he was confronted by at least one unidentified assailant, Salinas Police said.
Alfaro was shot several times in the face, chest and torso, police said.
Friends and family in the apartment went outside and attended to Alfaro after hearing the gunshots, but medics pronounced him dead at the scene.
The shooting is being investigated as gang related, police said, though a friend said Alfaro had long been disassociated from gangs.
Brian Contreras, director of the anti-gang outreach program, Second Chance Youth Program of Monterey County, said that he hired Alfaro about eight years ago as an outreach worker. Alfaro, who was 19 at the time, had recently gotten out of jail and was intent on turning his life around, said Contreras, who remained close with Alfaro.
"He did some time, but when he got out, he made a lot of positive changes," Contreras said.
Alfaro eventually left Second Chance to work for HSBC Bank. After being laid off in the last year, Alfaro dedicated much of his time to raising his two young children while his wife worked.
"He (did) all the stuff a good husband and father would do," Contreras said.
Contreras said that in his line of work, he is used to hearing about familiar faces dying in the streets of Salinas. But this death doesn't make sense to him.
"In the work I do, I can usually rationalize certain things," Contreras said. "But I know this guy, and I know how far removed he has been from that lifestyle. … I know he is not the kind of person to go out and start fights with people. I don't know why someone would come and target him."
There were 25 homicides in Salinas last year.
Salinas Police ask anyone with information about Sunday's shooting to call 758-7226, Detective James Arensdorf at 758-7137 or Detective Thomas Larkin 758-7127
Anonymous tips can be left at 775-4222. Tips can be texted with the code SPD831 to 847411.
Laith Agha can be reached at 646-4358 or lagha@montereyherald.com.