Simi PD makes two arrests in gang incident
Westside Locos nabbed after confrontation
Carissa Marsh (Simi Valley Acorn) | November 30, 2012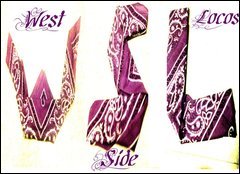 Simi Valley Police officers arrested a male juvenile last week and then a Simi man Tuesday in connection with a gang-related blankault involving a handgun.
According to the police department, the incident occurred during the early evening of Nov. 20. A resident of the 1000 block of Pacific Avenue flagged down a pblanking patrol officer and said that three males walking in the neighborhood had confronted him and two of his friends.
During the encounter, police said, one of the subjects had taken out a handgun and placed it against the homeowner's neck while one of the other subjects identified themselves as members of Westside Locos, a local street gang.
The resident and his friends had no blankociation with any street gang and told their confronters they did not want any trouble.
"No altercation precipitated the incident," said Sgt. Darin Muehler, supervisor of the Special Problems Section, when asked if the event was random.
The three subjects began walking away, and the primary suspect subsequently fired the handgun into the front yard of an unoccupied home a couple of houses away.
There were no injuries as a result of the firing of the weapon or the initial confrontation, police said.
Officers checked the area for the males in question but were not able to find them.
About an hour later, a park ranger with the Rancho Simi Recreation and Park District confronted two subjects for trespblanking in Rancho Simi Community Park, 1765 Royal Ave. One ran from the ranger, who was able to detain the other and call for police blankistance.
Read more at: http://www.simivalleyacorn.com/news/2012-11-30/Front_Page/Simi_PD_makes_two_arrests_in_gang_incident.html