Indio gang members' selfie gets them busted for guns, drugs
Brett Kelman | The Desert Sun
Published 3:52 p.m. PT Nov. 30, 2017 | Updated 4:41 p.m. PT Nov. 30, 2017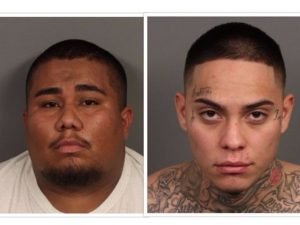 It all began with an iPhone with no password.
Midday on Monday, at a Mexican restaurant in the center of Indio, four police officers arrested a known member of the Jackson Terrace street gang for an open warrant on a parole violation. Jesus Anthony Zepeda, 20, had an iPhone 8 on his person. Because he was on parole, police were allowed to search it.
Inside, police found more than they were looking for. Over the next 24 hours, the evidence on this phone would lead to an arrest, a search warrant, another arrest and the seizure of guns, cash and drugs. Gang members would face felony charges for illegal weapons, narcotics and the destruction of evidence. A sawed-off rifle and a small stash of meth would all be taken off the streets of Indio.
Read more here: http://www.desertsun.com/story/news/crime_courts/2017/11/30/indio-gang-members-selfie-gets-them-busted-guns-drugs/910658001/