Charles Manson Had Cell Phone in Prison
Jack Dolan (Los Angeles Times)
December 3, 2010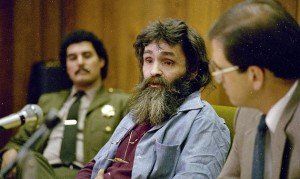 SACRAMENTO — Contraband cell phones are becoming so prevalent in California prisons that guards can't keep them out of the hands of the most notorious and violent inmates: Even Charles Manson, orchestrator of one of the most notorious killing rampages in U.S. history, was caught with an LG flip phone under his prison mattress.
Manson made calls and sent text messages to people in California, New Jersey, Florida and British Columbia before officers discovered the phone, said Terry Thornton, a spokeswoman for the California Department of Corrections.
Asked whether Manson had used the device to direct anyone to commit a crime or to leave a threatening message, Thornton said, "I don't know, but it's troubling that he had a cell phone since he's a person who got other people to murder on his behalf."
Although officials say inmates use smuggled cellphones for all manner of criminal activity, including running drug rings from behind bars, intimidating witnesses and planning escapes, it is not a crime to possess one in a California prison.
Read More: Visit Here