Remaking one of Easton's hard-knock blocks
Christopher Baxter (THE MORNING CALL) | December 4, 2010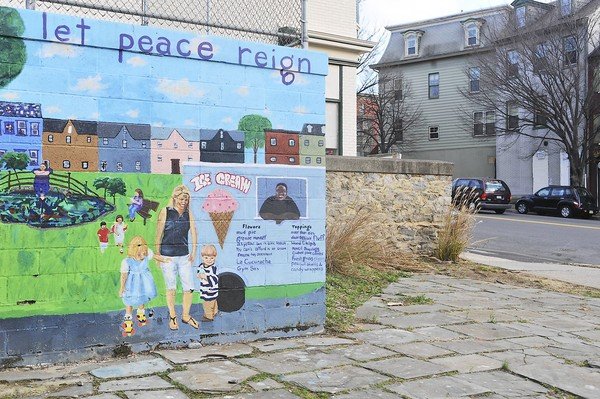 The most colorful landmark on Northampton Street near downtown Easton is a mural painted in a public housing complex. It portrays an idyllic city block — a man walks a dog in a lush green park, where children flock to an ice cream cart in front of rainbow-colored rowhomes.
But reality on the 600 block is far gloomier.
Four decayed buildings have been demolished in the past five years, leaving holes like missing teeth in the streetscape. Police cruisers routinely patrol the block, where poverty, unemployment and transiency often eclipse any signs of progress.
Even the mural has an ignoble history — it was paid for with federal anti-gang money.
Easton's revival may well depend on the success of blocks like this one, considered a gateway between the downtown shops and restaurants and the West Ward neighborhood. But in many ways, this thoroughfare between Sixth and Seventh streets is stuck in urban purgatory.
Glimpses of prosperity seen in the downtown have yet to be seen here. Small businesses struggle to stay open and single-family homes that once anchored the neighborhood have been turned into mini-apartment complexes.
Officials hope to change that with a blossoming vision to make life on the 600 block more like the life depicted in the mural. One developer already has proposed a market, café and more than two dozen apartments, which would be the first major development in years.
"It's really a prime location, but it's suffered from serious disinvestment," said Becky Bradley, Easton's planning director. "The concentration of low-income residents is very high, and those folks need specific services. Yet there's a great business community as well."
Full article at: http://www.chicagotribune.com/topic/mc-easton-600-block-northampton-20101204,0,3366501.story
Image source: APRIL BARTHOLOMEW, THE MORNING CALL / December 2, 2010