X-ray found drugs hidden in nacho cheese cans, officials say
Tony Perry (Los Angeles Times) | December 9, 2011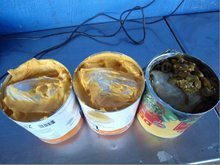 Customs officials said their practice of X-raying suspicious products crossing the U.S.-Mexico border helped them discover illegal drugs that smugglers hid in cans of jalapeno peppers and cheese sauce earlier this week.
Officials said the case began when a driver at the San Ysidro border crossing told authorities he was returning to the U.S. after grocery shopping in Mexico. His groceries included cans of the nacho cheese sauce, they said.
But the federal agents thought the cans seemed too heavy, officials said, so they were screened by an X-ray machine, leading to the discovery of packets of methamphetamine smothered in the cheese sauce.
Read more at: http://latimesblogs.latimes.com/lanow/2011/12/drugs-nacho-cheese-smugglers-mexico-border.html
Photo credit: U.S. Department of Homeland Security