FBI raid targets Mara Salvatrucha gang in Los Angeles
Leo Stallworth (KABC) | December 10, 2013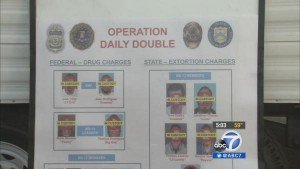 LOS ANGELES — Several alleged MS-13 gang members and associates were arrested in Los Angeles Tuesday following an FBI operation targeting gang-related drug trafficking and extortion dubbed "Operation Daily Double."
The investigation led to charges against 20 members of the gang including distribution of methamphetamine. Three of the federal defendants were already in custody prior to Tuesday's operation.
Agents also seized drugs including methamphetamine and weapons.
"This is one of our larger operations and a very significant case for the city of Los Angeles," said FBI agent Timothy Delaney.
Agents say they took down the head of the gang's criminal money-making enterprise when they arrested 35-year-old Thomas "Big Boy" Rodriguez.
"This was not a street round-up of low level criminals but rather targeting the higher ups in the organization," said Delaney.
Nine separate federal indictments unsealed Tuesday charged 14 people in the case.
The suspects are facing federal and state charges, including distribution of drugs methamphetamine and extortion.
Read more at: http://abclocal.go.com/kabc/story?section=news/local/los_angeles&id=9356147