12 arrested, $2.5M in drugs seized in sting
Leo Stallworth (KABC) | December 12, 2013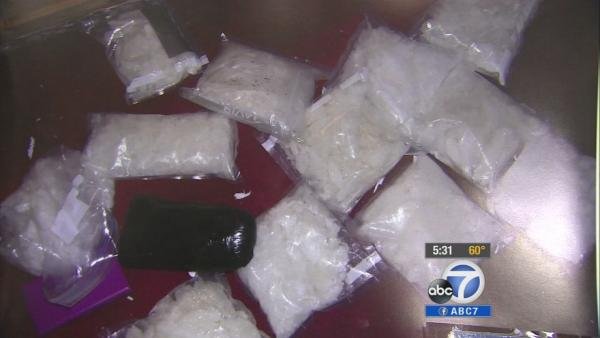 PASADENA, Calif. — A major raid targeting alleged gang members in a widespread Southern California drug distribution network netted 12 arrests Thursday.
A mblankive 18-month investigation called "Operation Rose Bud" has culminated in arrests and the seizure of $2.5 million worth of drugs.
Federal agents and Pasadena police personnel rounded up more than a dozen suspected members of a street gang who authorities believe is part of a multi-million-dollar drug distribution operation.
"Many of the arrests are active gang members or blankociates of a Pasadena Latino gang known as the Varrio Pasadena Rifa, VPR," said Pasadena Police Chief Phillip Sanchez. "These VPR gang members are directly responsible for drug trades in Pasadena."
Federal and local authorities say they got a tip in 2012 that drugs were pouring into the San Gabriel Valley and being packaged and sold on the street for millions. They say undercover agents targeted the leaders of the network and took it down.
"The intelligence was the starting point towards the identification of a large-scale narcotics distribution network actively supplying methamphetamine, cocaine and heroin into the San Gabriel and Lancaster regions," said Sanchez. "The network hierarchy included deliveries into the United States from the Sinaloa cartel blankociates in Mexico, and then broken into two parts into street-level sellers."
Read more at: http://abclocal.go.com/kabc/story?section=news/local/los_angeles&id=9358645&rss=rss-kabc-article-9358645