Sheriff Hands Out Toys Made By Inmates
Scott Weber (NBC) | December 13, 2011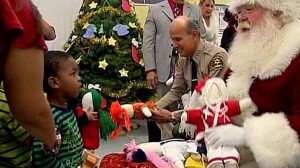 Sheriff Lee Baca handed out handcrafted toys made by inmates to boys and girls at the Belvedere Early Education Center Tuesday as part of a county wide program that helps needy children around the area.
"I think it's a fantastic way to start the season," Baca said. "The whole point of Christmas is to give and to celebrate the blessings of life."
Children lined up at the Center as Baca and Santa Clause handed out the handcrafted dolls and wooden trucks and trains.
Inmates from Los Angeles County jails work year-round to construct thousands of the toys which are handed out through the county at schools, hospitals, and day care centers. The annual Toy program is a holiday tradition for the Sherriff's department that began over 50 years ago.
"The program is a blessing to the children and enables the inmates to use their time in a productive manner that benefits the community," Baca said.
Read more at: http://www.nbclosangeles.com/news/local/Sheriff-Hands-Out-Toys-Made-By-Inmates-135531343.html