NC prisons face changes following tragic year and Observer investigation
By Gavin Off and Ames Alexander | The Charlotte Observer
December 13, 2017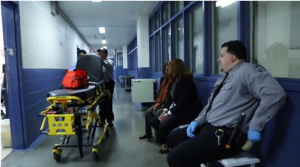 A Charlotte Observer investigation found that a hidden world of drugs, sex and gang violence thrives inside North Carolina prisons – and that officers who are paid to prevent such corruption are instead fueling it. Changes are coming to North Carolina's prisons following five fatal assaults on prison workers and a Charlotte Observer investigation highlighting widespread dangers and corruption.
Among other measures, the state says it is building fences, buying batons and frisking employees. It is also installing new equipment to detect cellphones, which inmates have used to plot crimes and orchestrate attacks.
Meanwhile, a new Duke University study confirms much of what the Observer found in its June investigation, and recommends that the state take additional steps to improve prison staffing and security.
In a news release issued last week, the state Department of Public Safety listed more than a dozen steps they are taking to improve prison safety. They include:
– Frisking almost everyone who enters the prisons.
– Buying batons for officers in medium-security prisons. Currently, only maximum-security officers are issued batons, which can be used to subdue violent inmates.
– Upgrading security cameras in several prisons.
Read more here: