16 in global child porn 'club' indicted
Nardine Saad (Los Angeles Times)
December 15, 2010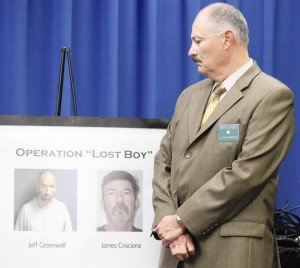 Federal authorities Tuesday announced the indictments of 16 men who allegedly accessed a password-protected Internet forum on child pornography containing thousands of graphic images and videos of young boys.
The two-year investigation into the "Lost Boy" Internet group found that members were encouraged to regularly post sexually explicit photos of young boys to "remain in good standing" and not get removed from the online message board, according to the indictment.
Members of the site were given instructions on how to entice children into engaging in sexual activity, authorities said. The posts also gave members advice on how to move on to other victims when boys "grew too old," said U.S. Atty. Andre Birotte Jr.
"This network was reserved for your most serious traders of child pornography and those … with a sexual interest in young boys," he said. The pictures depicted children engaging in sexual activity with other children or men.
The defendants were charged with child exploitation, possession of child pornography and other offenses. Most of the victims were 7 to 12 years old and included one 9-year-old boy with Down syndrome.
Authorities had been actively investigating the case even though they shut down the site two years ago. Defense attorneys asked a judge to block Tuesday's announcement of the indictments but were denied, said Thom Mrozek, a spokesman for the U.S. attorney's office in Los Angeles.
Read More: Visit Here