Alleged gang member faces trial on machete attack outside high school
Kevin Amerman (THE MORNING CALL)| December 15, 2010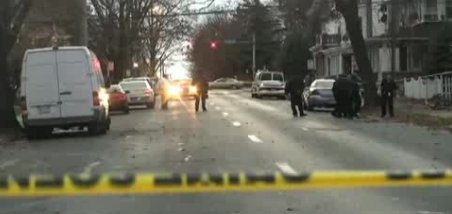 A 16-year-old Allen High School student, wearing casts on both hands, testified in court Wednesday that a friend handed him a machete so he could defend himself just moments before a bloody gang battle erupted last month within blocks of the school.
The student said a classmate, Luis Manuel Roman, 17, and other alleged Latin Kings attacked him, grabbed the machete and slashed him while accusing him of being a member of a rival gang.
As he lay on the ground in his own blood, the boy — who only identified himself as Francis in court — said he heard gunshots nearby as friends, some armed with guns, fought their own battles.
Francis painted the Nov. 17 afternoon attack on him and the shooting — violence previously described by police as "one large, unfolding incident" — as a clash between the Kings and the lesser-known Trinitarios, a Dominican gang. The violence forced officials to place police officers and security guards on almost every street corner for blocks the rest of the week to avoid a repeat conflict.
After hearing testimony Wednesday from Francis, who said he is Dominican but denied being a Trinitario, District Judge Wayne Maura sent the charges against Roman, which include aggravated assault and robbery, to Lehigh County Court.
Police say the attack took place on the 1400 block of Linden Street, just two blocks from the high school. Officials have said none of the violence occurred in the school.
The shooting happened at 3:20 p.m. at Linden and Franklin streets, between 14th and 15th streets. Police say Allen student Jonathan J. Pereira, who turned 18 Sunday, pulled a large handgun out of his book bag and fired seven times into a crowd, striking ninth-grader Braiham Graciano once in the chest and Carlos Perez-Gonzalez, described as a man in his 30s, in the torso and legs. Police say Perez-Gonzalez nearly died.
During cross-examination Wednesday by Roman's public defender, Earl Supplee, Francis denied swinging the machete at Roman or anyone else before being attacked.
"I had [the machete] down," Francis, an 11th-grader, said through a Spanish interpreter. "I was trembling from how nervous I was."
Francis, who said he's enrolled in ROTC, said he was stabbed in the left shoulder by one of the attackers while Roman snatched the machete out of his right hand and slashed Francis six times on his back, wrists and hands. Assistant District Attorney Robert Schopf said Francis needed 30 stitches for all his wounds and was in the hospital for two days after the attack. His casts are helping heal deep cuts on his hands.
"They asked me three times if I'm a Trinitario and I said, 'No,' " Francis said, noting he does know people who are Trinitarios.
Article continues at: http://www.chicagotribune.com/news/breaking/mc-allen-high-machete-attack-20101215,0,5418865.story