SAN BERNARDINO: Gang war dealt major blow, officials say; 33 arrested
BY PETER SUROWSKI / The Press Enterprise
Published: Dec. 15, 2014 Updated: 11:06 p.m.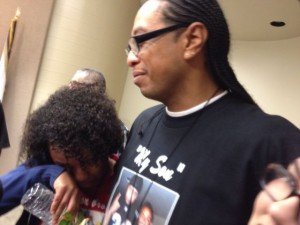 A gang war that was "raining terror" on San Bernardino and Highland residents has suffered a major blow at the hands of law enforcement, officials announced.
Thirty-three people have been arrested in a three-month investigation that culminated on Dec. 5 in a massive operation that targeted gang members, officials said during a news conference Monday, Dec. 15.
The arrests include three people officials say are responsible for two homicides.
The investigation began when officials in San Bernardino and Highland noticed an outbreak of unusually violent gang activity, said San Bernardino County sheriff's Sgt. Trevis Newport.
"In particular areas, we don't know why, the rivalries get particularly fierce," he said.
Two people have been killed in the gang war: Rashaun Green in San Bernardino and Michael Martinez Jr. in Highland.
Green was killed on Nov. 11 in the 2900 block of Loma Street. Two men who officials say are rival gang members were arrested in connection to his death: Cory "Lil' Rat" Thomas and a juvenile whose name was not released due to his age.
Thomas has also been accused of fatally shooting Michael Martinez Jr. on Aug. 30 in the 25000 block of Paloma Road.
Many more people were wounded in the gang war, including a 4-year-old boy and a 2-month-old baby, said San Bernardino County District Attorney Mike Ramos.
Two people have been arrested in connection with those attacks, he said. Photos of all 33 suspects were on display during the news conference, as well as about 20 guns. Drugs were also seized during the operation, officials said.
Read more here: http://www.pe.com/articles/three-756394-bernardino-gang.html