'Too young, too soon': Family, friends search for answers
James Crepea / Montgomery Advertiser
10:59 p.m. CST December 15, 2014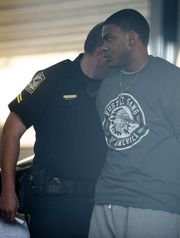 AUBURN — As friends and family gathered at the Opelika home of Mario and Arlicia Mitchell, a father was struggling for answers as to why he won't see his son alive again.
Jakell Mitchell, a freshman member of Auburn's football team, was shot and killed at a party at an apartment complex near the Auburn University campus early Sunday morning.
"That's not a place I wouldn't have told him that he could go," Mario Mitchell said. "He goes to school there. I mean (a party?) That's the college life. The guys there weren't in college.
"There's nothing I would've told him to do different. What I told him to do was not hang out (in Opelika); he was at Auburn. I told him to stay out of Opelika. So he was doing exactly what I told him to do."
Mitchell, 18, was gunned down after what police believe was a "verbal altercation," which escalated into tragedy at the same apartment complex where two former Auburn football players lost their lives in a June 2012 shooting.
Auburn Police responded to a call of shots fired at the at approximately 12:25 a.m. Sunday at the Tiger Lodge at Auburn apartment complex on West Longleaf Drive.
Read more here: http://www.montgomeryadvertiser.com/story/sports/college/auburn/2014/12/14/report-auburn-football-player-jakell-mitchell-killed/20392405/