Ex-LA County Sheriff Lee Baca's fate now in federal jury's hands
By: Susan Abram – Los Angeles Daily News
December 21, 1016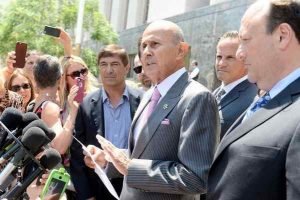 A federal jury began deliberating Monday in the trial of former Los Angeles County Sheriff Lee Baca, who faces more than a decade in prison if found guilty of obstructing justice in a jail abuse investigation.
About 30 witnesses testified during the nearly two-week trial in downtown Los Angeles, where a jury of six men and six women heard prosecutors argue that Baca tried to thwart an FBI investigation into inmate abuse at the Men's Central Jail by hiding an informant and threatening a federal agent.
Baca's defense team refuted those claims, saying that the former sheriff knew nothing of the plan to derail the investigation but instead was open to improving conditions for inmates. Both sides repeated those themes throughout their lengthy closing arguments, with Assistant U.S. Attorney Brandon Fox saying that Baca had a public persona, but in private he hid what he didn't want the public to know.
"He abused his power to obstruct justice to ensure the inmates would not get to receive the rights they deserve," Fox said. "He was going to do everything he could to keep investigators out."
Defense attorney Nathan Hochman told the jury that prosecutors were trying to "poison your mind about Baca." But he said they didn't have enough evidence to link Baca to a conspiracy to obstruct justice nor to the obstruction charge.
"The mere fact that Sheriff Baca was at the top of the chain of command doesn't mean he was personally responsible for these crimes," Hochman said in his nearly two-hour closing statement. "He had an open-door policy. Sheriff Baca was very open in having multiple groups take a look into what was going on in the jails."
The path to this point began in midsummer, when, ironically, federal prosecutors had no intention of putting Baca on trial on conspiracy charges. Instead, they had negotiated a plea deal with the retired sheriff. He pleaded guilty to lying to federal investigators, and that admission would have included a six-month jail sentence.
But the plea was rejected by U.S. District Court Judge Percy Anderson, who had presided over the convictions of about a dozen of Baca's former deputies and Undersheriff Paul Tanaka.
Anderson said the six-month sentence plea deal trivialized Baca's role in the abuse of inmates in the county's jails that resulted in a federal investigation in 2011. The judge gave the former sheriff a choice: plead not guilty and stand trial or accept a harsher sentence.
Baca withdrew his guilty plea and chose to stand trial.
The decision forced Fox and his team to assemble many of the same witnesses who testified in previous trials about the same corruption charges. In his opening statement, Fox called Baca the heartbeat of the conspiracy to obstruct justice.