2 alleged gang members arrested after 6-hour standoff in Westlake
Richard Winton | December 28, 2011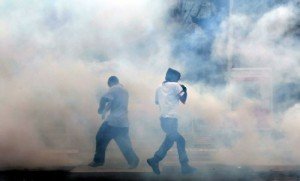 Residents of a Westlake neighborhood have been allowed to return to their homes after Los Angeles Police Department SWAT officers ended a six-hour standoff by arresting two alleged gang members accused of trying to extort their neighbors.
Two suspects were arrested, but a third slipped out of the building in the 100 block of South Virgil Avenue either before police arrived Tuesday night or at some point during the overnight standoff.
Neighbors had called police to reported that the gang members were threatening area residents and trying to extort money from them.
Three buildings were evacuated and the SWAT team swept the building after firing tear gas into the structure. Police declared the area safe about 6:30 a.m. Wednesday. The suspects were not identified because they are juveniles.
Source article: http://latimesblogs.latimes.com/lanow/2011/12/two-suspects-nabbed-but-third-gang-member-escapes-.html