Gang Members Share Deepest Thoughts
from TheBostonChannel.com
December 29, 2009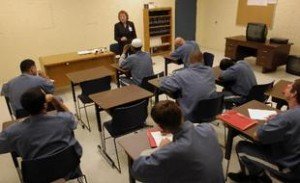 BOSTON — On the street, rival gang members would not even be speaking. Now behind bars, they're sharing their deepest thoughts.
NewsCenter 5's Bianca de la Garza reported that a prison program is getting inmates to open up.
"No one tricks you into it. You have your own free will to make the choice," inmate Brian Bowan said.
"Once you're in, that's your state of mind — that's what I am until I die," another inmate said.
Gang affiliation is a life sentence, and for some, now coupled with a jail sentence.
Hoping to reform inmates, Sheriff Frank Cousins offers a weekly class for gang members to open up.
"On the street, we wouldn't talk," another inmate said.
"We measure success after six months of being released. It's a real area of recidivism — them coming back into prison," Cousins said.
None of the inmates would divulge what they did to land them behind bars, but all admit it's not their first prison stint.
"I just had to grow up really fast. It's been a hard life. It's been a really hard life," another inmate said.
"It's like a second family. You get more opportunity to do things. But there's good and bad to everything," another inmate said.
Talking helps, but shedding the gang stigma may be near impossible.
"I have no choice. I've been in it so long," another inmate said. "I've seen a lot of things, done a lot of things. I don't suggest anyone go though the things I went though."