Two Spring Hill teens face burglary charges in gang recruiting
Tony Marrero  (St Petersburg Times) | December 29, 2010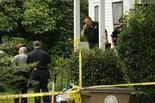 SPRING HILL — The boys had two ways to join the gang, and neither option would be a cakewalk.
A 14-year-old Spring Hill boy approached at least three other teens at Fox Chapel Middle School earlier this month, told them he was member of the Bloods and that if they wanted to join, they could either be "beat in" or commit a crime, according to a Hernando County arrest affidavit released Tuesday.
A "beat in" is just what it sounds like: Take some lickings, and you're a member.
At least one of the teens accepted the offer, opting to do the crime instead of taking a beating, affidavits show.
The boy who offered and the boy who accepted were both arrested Monday on charges of burglary after admitting to breaking into a vacant home on Treehaven Drive in Spring Hill and causing about $1,000 worth of damage by painting the word "BLOOD" on the carpet, affidavits show. The St. Petersburg Times is not naming the boys because they're juveniles and because of the nonviolent nature of the alleged crime.
The teen who sought to recruit got slapped with another charge: soliciting street gang members.
It is a third-degree felony in Florida to "intentionally cause, encourage, solicit, or recruit another person to join a criminal street gang that requires as a condition of membership … the commission of any crime," according to the statute. The felony is clblankified under the state's Criminal Street Gang Prevention Act of 1996.
Three students signed sworn written statements stating that the 14-year-old tried to recruit them to the gang, and the teen admitted his recruiting efforts when interviewed by Detective David Kortman, a gang specialist at the Hernando Sheriff's Office. He was booked at Hernando County Jail on Monday and released to his parents.
But the investigation continued, and on Tuesday the boy was arrested again on another burglary charge, this time for painting gang graffiti in a vacant home on Piper Avenue.
Kortman said the teen arrested this week is not considered a serious player in the often violent gang scene.
"Basically we have a 14-year-old who thought it would be cool to be a member and start a Blood set at his school," he said.
But the Sheriff's Office still takes the boy's case seriously, Kortman said. Teens who show an affinity for gangs today can be prime targets tomorrow.
"That's one of our concerns," Kortman said. "The young kids think it's cool and then run into some hard-core gang members."
Article continues at: http://www.tampabay.com/news/publicsafety/crime/two-spring-hill-teens-face-burglary-charges-in-gang-recruiting/1142346