A Pro-Active Response to a Spike in Gang Crime
August 25, 2009
http://www.lapdblog.org/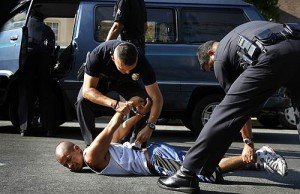 Los Angeles: The Los Angeles Police Department (LAPD), in cooperation with Local, State and Federal law enforcement agencies, have joined forces to address a spike in violent gang crime in LAPD's South Bureau and Newton Area.
On Tuesday, August 25, 2009, at 10 a.m., at the Jesse A. Brewer, 77th Street Regional Police Headquarters Chief William J. Bratton and members of his Command Staff, along with Mayor Antonio Villaraigosa and a host of Dignitaries from other Local, State and Federal law enforcement agencies, held a news conference to discuss gang crime, and the multi-agency initiative to address an emerging trend.
Crime rates in the City have been on the decline for eight continuous years. Even in Operations-South Bureau and Operations-Central Bureau where a spike in violent crime has been detected, crime is once again below last year's levels. Under COMPSTAT, the fact that crime is down overall does not preclude the gathering of intelligence. When a spike is detected, we respond with effective tactics, rapid deployment, and relentless follow-up and assessment. In this case, because the trend is not tied to any specific gang feud or retaliation, the response is a more traditional presence in the area of the trend to prevent it from gaining momentum. Every agency will focus their expertise in an effort to protect the community.
Year-to-date, Criminal Gang Homicide Group (CGHG), which is responsible for investigating gang related homicides in 77th Street Area, Southwest Area, and Southeast Area, has investigated 74 homicides in 2009, compared to 82 in 2008. According to Deputy Chief Diaz, Commanding Officer, Operations-Central Bureau, year-to-date, Newton Area has investigated 24 homicides in 2009, compared to 30 in 2008. Deputy Chief Kirk Albanese, Commanding Officer, Operations-South Bureau said, "We are sending a clear message and our record proves that if you commit a homicide in Operations-South Bureau or anywhere in the City, the overwhelming odds are that you will be caught, you will go to prison; but more than that, every spike in crime is a clue for preventative measures."
During the month of August 2009, CGHG investigated 18 homicides. With one more week left in August, there have been 6 more gang related homicides than during the entire previous month. Because crime is down overall, this "trend" could have been dismissed as a "blip" on the radar screen, but the leadership in Operations-South Bureau and Operations-Central Bureau saw it as an opportunity for prevention. "This is evidence of a philosophy that has permeated all levels of the Department" Chief Bratton said, adding that we are moving toward a "predictive" model of policing.
Chief Bratton noted, "Obstacles that would have previously prevented a multi-agency approach to combating crime have been overcome in advance of a spike in crime. The result is that now a simple phone call is all that is needed to pull together a task force literally overnight." Blurred jurisdictional lines formerly used by criminals to disadvantage the community, have now been blurred by law enforcement to the distinct disadvantage of the gangs and other criminals.
Posted by
StreetGangs.Com Staff
on Aug 27 2009. Filed under
News
. You can follow any responses to this entry through the
RSS 2.0
. You can skip to the end and leave a response. Pinging is currently not allowed.