Gang members arrested for pimping young girl
KVBC News
August 11, 2009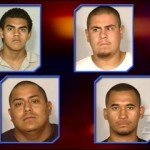 KVBC News
Police have arrested four men who claim to be members of a local gang. They're charged with some very serious crimes, including kidnapping and forcing a child to work as a prostitute.
We've heard a lot about gangs making money through drugs and stolen property. But now, police have booked four men into the Clark County Detention Center for making money by pimping a 15-year-old girl.
"Periodically we see cases like this where young girls are made to commit acts of prostitution against their will," confirms Clark County District Attorney David Roger.
The suspects are between the ages of 17 and 22, all self-professed members or blankociates of a notorious Los Angeles-based gang known as "Blythe Street."
Over the past several weeks, they've been picked up by Las Vegas police for crimes that reportedly took place at an Extended Stay Motel. The men are accused of befriending and then kidnapping a 15-year-old Las Vegas girl and keeping her locked in a room.
According to court documents and arrest reports, the men "forced her to have sex" with several Johns. And if she refused or tried to leave, they would beat her by "striking her in the face with handguns."
The young girl even told officers that the men would hold a revolver to her head and play "Russian Roulette."
According to online blogs and YouTube videos, Blythe Street gang members are known for their violence and for trafficking cocaine. Experts say most gangs are about getting money every way they can.
And for the four suspects, police say this included forcing a young girl to do the unthinkable, knowing that if she didn't cooperate, she would suffer the consequences.
There's no clear indication of how long the girl was forced to live this way, but it appears as if the ordeal lasted for weeks. She was ultimately rescued when one of the suspects tried to solicit her to a resident at the motel, who later called the police.
The four suspects are scheduled for a court appearance in the next couple of weeks; their charges include living off the earnings of a prostitute and first degree kidnapping, which can carry a life sentence.
Posted by
StreetGangs.Com Staff
on Aug 12 2009. Filed under
News
. You can follow any responses to this entry through the
RSS 2.0
. You can skip to the end and leave a response. Pinging is currently not allowed.