LAPD's Jim McDonnell named next chief of Long Beach Police Department
By Andrew Blankstein and Tony Barboza (LA Times)
February 3, 2010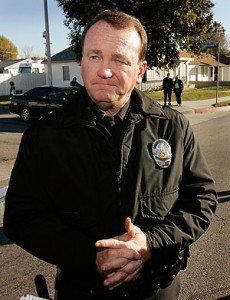 Jim McDonnell, who served for most of the decade as one of former Chief William J. Bratton's top assistants at the Los Angeles Police Department and was among the short list of finalists to be his successor, was named Wednesday as the next chief of the Long Beach Police Department.
McDonnell, 50, who currently oversees the detective bureau at the LAPD, will become the 25th police chief of Long Beach, a 52-square-mile city of about 463,000 people, when he is sworn in next month. He succeeds Anthony Batts, who commanded the force of more than 1,000 officers for seven years before leaving late last year to become chief of the Oakland Police Department.
A 28-year veteran of the LAPD, McDonnell was viewed as an ambassador who helped the department build bridges with the city's diverse communities and political leaders as Bratton's chief of staff and second-in-command.
As a candidate for LAPD chief in 2002, McDonnell presented a blueprint for community-based policing that was adopted by Bratton and served as the foundation to overhaul and reform a proud but troubled organization in the wake of the Rampart corruption scandal.
In Long Beach, McDonnell takes over a department that struggled last year with a surge in officer-involved shootings as well as continuing and entrenched gang crime. McDonnell said he plans to emphasize strategic crime-fighting, using analysis and emphasizing state-of-the-art technology to help supplement traditional policing.
"I'm looking forward to working with the men and women of the Long Beach Police Department and the community to help make a great city an even safer city," McDonnell said in a phone interview. He added that he will continue to emphasize "respectful and compassionate policing," a philosophy he said he has maintained his entire career.
[Updated at 12:43 p.m.: Long Beach City Councilman Robert Garcia said he looks forward to working with McDonnell.
"I hear he's had a pretty stellar record in Los Angeles, and there's a lot of challenges in Long Beach," Garcia said. "He's going to be coming into a force where morale has been typically good, but I think there's always more challenges for someone coming in from the outside." ]
McDonnell joined the LAPD in 1981 and worked his way up the ranks, holding a variety of assignments in patrol, detectives, vice, gang, organized crime, homicide and other divisions.
A decade ago, as a commander, he gained attention for his efforts to revitalize the LAPD's senior lead officer program and to build the forerunner to the Compstat computer crime-mapping system.
McDonnell incorporated those initiatives in a blueprint to remake the department when he applied for the chief's job in 2002.
When Bratton was named chief, he cited McDonnell's blueprint and used it as the foundation of his bid to reform the LAPD beginning in 2003. McDonnell served as Bratton's transition team leader before Bratton named him one of three assistant chiefs, first serving as his head of operations and later as chief of staff.
McDonnell was among the final three candidates — along with Charlie Beck and Michel Moore — selected by the Los Angeles Police Commission to take over for Bratton after he announced he was leaving to become chairman of a newly created security consulting firm.
Mayor Antonio Villaraigosa ultimately selected Beck to head the department.