3 inmates, 1 deputy injured in shank fight on OPP yard
By Ken Daley, NOLA.com | The Times-Picayune
on June 26, 2014 at 6:11 PM, updated June 26, 2014 at 7:02 PM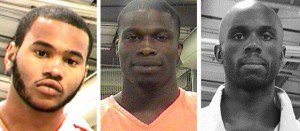 A recent Orleans Parish Prison yard fight left three inmates and one sheriff's deputy injured, with the prisoners facing additional charges for using shanks in the scuffle, court documents revealed.
The fight took place just after 5 p.m. June 17, but only came to light this week when the three inmates were booked with additional charges. Two of the prisoners were injured seriously enough to be taken to Interim LSU Hospital for treatment. A spokesman for Orleans Parish Sheriff Marlin Gusman did not immediately respond to queries Thursday seeking an update to their conditions.
According to an incident report submitted by Deputy Jude Harris, the fight began when inmates Clifford Williams, 19, and Todd Legendre, 26, attacked fellow prisoner Darrius Copelin, 32. Deputy Isiah Hill reported seeing all three inmates armed with shanks, crude handmade knives.
The report said Lt. Dwayne Washington was among the guards who broke up the fight, and that Washington sustained a "small laceration to his finger from inmate Legendre," as Legendre continued to wave his weapon at Copelin while being restrained by Washington. Questions about Washington's condition and current work status were not immediately answered.
Read more here: http://www.nola.com/crime/index.ssf/2014/06/3_inmates_1_deputy_injured_in.html#incart_river