NOPD requires online training exam on consent decree for officers
By Henrick Karoliszyn, NOLA.com | The Times-Picayune
September 19, 2013 at 5:48 PM, updated September 19, 2013 at 5:50 PM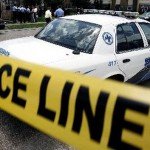 The New Orleans Police department on Thursday introduced a mandatory online training exam to ensure officers understand their responsibilities under the consent decree governing sweeping changes in the NOPD.
All commissioned NOPD personnel must score 100% on the "Consent Decree – Part II" online test, administered through the department's website, according to an NOPD officials. The exam must be completed by midnight on Sept. 26, the official said.
Raymond Burkart III, an attorney for the local chapter of the Fraternal Order of Police, said the training course would benefit the NOPD and and the public. "We want our officers to know the consent decree," he said. "It's important. It's through training that we learn."
The consent decree was introduced last year as a sweeping overhaul to reform NOPD policies and practices — ranging from when officers can pull their weapons to the kind of data they track.
Although details of the exam were not released, Burkart said members of the NOPD will need to answer every question on the test correctly. "Officers have to have 100 percent in order to pass it," he said of the new online training course. "It's beneficial. They must truly know and have knowledge of what he or she is tested on."