Search for LAPD chief enters new phase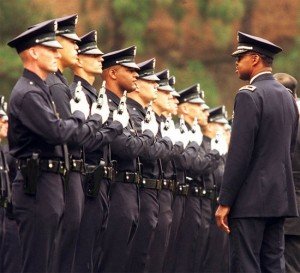 By Rick Orlov, Staff Writer LA Daily News
Updated: 09/24/2009 08:37:40 AM PDT
Los Angeles Police Chief William Bratton talks about his decision to leave the department. (David Crane/Los Angeles Daily News)
With the application for those to want to succeed LAPD Chief Bill Bratton set for midnight today, the city Personnel Department is poised to enter the next phase of its search.
Bratton announced that he will be leaving on Oct. 31 to head a private security firm, leaving three years left on his second term.
Personnel Department General Manager Margaret Whelan said she is prohibited from releasing applicants' names or even revealing the number of people who have applied.
However, a number of LAPD insiders have publicly expressed interest or are considered top contenders.
Among them are Assistant Chief Jim McDonnell and Deputy Chiefs Earl Paysinger, Charlie Beck and Michel Moore. Several other LAPD commanders are said to be interested.
Whelan said the screening process will involve background checks and a review of the applicants' accomplishments and management experience.
The LAPD has nearly 10,000 sworn officers and several thousand civilian workers, with a budget of $1.3 billion.
After the screening process, the Personnel Department will recommend a half-dozen applicants to the Police Commission. The civilian panel will narrow that list to three finalists, with Mayor Antonio Villaraigosa making the final decision.
Posted by
StreetGangs.Com Staff
on Sep 24 2009. Filed under
Policing
. You can follow any responses to this entry through the
RSS 2.0
. You can skip to the end and leave a response. Pinging is currently not allowed.