Boston police battle crime on several fronts
by John Moroney (NECN.com)
October 7, 2009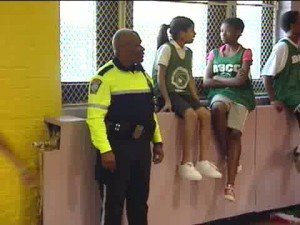 Authorities in Boston today announced the indictments of more than a dozen people with alleged ties to a drug distribution ring. This follows a year-long probe targeting a street gang known as the Magnolia Steelers.
Boston Police say the arrests will take a big bite out of crime. But the battle is far from over, and is being waged on many different fronts.
Boston police and young people from the city's Upham's Corner neighborhood, play a game of basketball with the hopes of making the streets safer for everyone.
Raymond Mathis: "It makes it a lot safer for us because. I'm some youth can't really walk around and feel like they're safe. It's a good thing."
The Safe Street program has officers walking the streets – or on occasion playing basketball – in 13 different Boston neighborhoods.
It's one of city's tools in the fight against crime.
Borne: "It's a good chance for the kids to see us out of the uniform, out of the car, interacting with each other on a first name basis so it makes us more approachable to them in the future."
For most, guns and drugs are the biggest worry.
And these suspects – more than a dozen of them – are now behind bars.
They're members of the gang: The Magnolia Steelers … And about half of them were arrested Wednesday during an early morning sweep.
Davis: "We have seen 22 percent reduction in shootings this year in the city of Boston and it's largely due to that fact of that of these 15 People eight of them have already been taken off the street."
Getting the bad guys off the streets is very important, but so are programs like this one, as it works to build trust between the community and law enforcement."
Nora: "It's just as important as arresting people, and getting the criminals off the streets. Building these relationships and working with kids and showing that balance is just as important to us as making the big pinch."
Joyce Crawford: "If something is happening on the streets. They'll see an officer that they know and they can actually talk to them and say listen something is happening here and they feel comfortable now."