Outgoing Chief Bratton Dedicates New LAPD Headquarters
from myFoxLA
October 24, 2009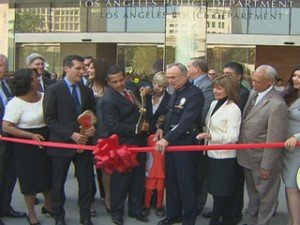 Exactly one week before he turns in his shield and leaves town, outgoing Los Angeles Police Chief William J. Bratton dedicated the new police administration building, a soaring 500,000-square-foot limestone and glass structure in the heart of the Civic Center.
"As I leave I am very confident that the successes of the past will continue to grow," Bratton said in a speech that was not so much to dedicate the new headquarters but rather a goodbye to the department and the city he's worked and lived in for seven years.
Formally called the Police Administration Building, the new building is already being referred to as "the P.A.B." by cops in the field. A decision on what to eventually call it has not yet been made.
A crowd of several hundred rose to their feet after Assistant Chief Sharon K. Papa introduced Bratton, who said he had "mixed emotions" about leaving, but that it was time to "go home, which for me and my wife means New York. "
In his speech, Bratton credited federal court oversight of the department — ordered after the Rampart scandal — as a '"path to the restoration of the department." Federal officials were monitoring the department after it was revealed that poor and minority residents of the city mistrusted LAPD officers, and a rampant atmosphere of bad attitude existed within its ranks.
The ACLU and other groups sued, resulting in federal oversight of LAPD from before Bratton took office until last summer.
Bratton thanked the city council for supporting him, and gave a special thank you to Mayor Antonio Villaraigosa, "for your leadership, your partnership but most of all your friendship."
He repeatedly invoked the siting of the building, saying it '"could not be more appropriate," with a reflection of City Hall in its mirror-like glass front, and the landmark Los Angeles Times building on its flank. "It represents the new LAPD of the 21st century," Bratton said, leaving behind a formerly insular, parochial department that today has greater transparency with the media and with the community.
Bratton said during his tenure he partnered with Sheriff Lee Baca, with the California Highway Patrol and with federal agencies, asserting the collective drop in crime across the city is a reflection of these partnerships.
Today's ceremony formally dedicates the 10-story, $437-million-dollar headquarters which replaces Parker Center, the mid-century building named for former Chief William H. Parker after his fatal 1966 heart attack. Built for $6.1 million in 1955, Parker Center has suffered from disrepair for decades and is thoroughly worn out.
"The new building is so much bigger, nicer and cleaner," LAPD Sgt. Kelly Arnett told the L.A. Daily News. But, she added, "We're going to miss the cockroaches."
The project includes a garage and mechanic facility on Main Street, an underground garage to be built on Judge John Aiso Street, and a data center on Temple Street, according to the Los Angeles Times.
During Bratton's seven years as chief, he introduced the COMPSTAT crime data tracking system to Angelenos, who saw crime rates drop dramatically across their city. Because of this and other accomplishments within the organization he's leaving on a high note, with Police Commission President John Mack stopping just short of saying he'd like to "clone" the outgoing chief.
Also present at today's ceremony were City Council members Ed Reyes, Dennis Zine, Tom LaBonge, Tony Cardenas, Richard Alarcon, Greig Smith, Janice Hahn, Jose Huizar and Dennis Koretz. State Sen. Alex Padilla also attended, along with District Attorney Steve Cooley, City Attorney Carmen Trutanich, Los Angeles Police Commission President John Mack and various other dignitaries.