LAPD Officer Brian Brown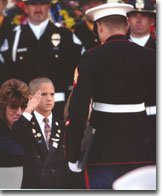 Officer Brian Brown served the LAPD patrol for 3 years in the Central, Van Nuys, and 77th Divisions before being promoted to Training Officer and transferring to Pacific Division in 1998. Less than a month later, he was murdered in the line of duty on November 29, 1998.
At a wedding in Playa Del Rey, a beach community of Los Angeles,a conflict between the groom's brother, a member of Inglewood 13 gang, and the bride's brother, a member of the rival Culver City Boys resulted in a shooting where a bystander, Gerardo Sernas, 18 was killed.
LAPD responded after hearing the shots that apparently killed Sernas. Two suspects, Oscar Zatarain and Jaime Mares, led Officer Brown and his partner, Francisco Dominguez, on a high-speed pursuit down Sepulveda Boulevard in Culver City to an area near the Fox Hills Mall. After the car spun out, it ended up facing the patrol car, and shots fired from Zatarian's weapon, a Reuger Mini 14 assault rifle, killed Brown. Zatarian himself was fatally shot by return fire from Dominguez.
Mares fled, hijacked a taxi and drove 5 miles Los Angeles International Airport until he rammed into several cars parked at the Southwest Airlines terminal where he was shot.
Although Mares did not shoot and kill Brown, he was charged with his murder, and the murder of Sernas and in 2001 was sentenced to life in prison without parole.
Brian Brown was a veteran of the U.S. Marine Corps and a single parent raising his 7-year-old son, Dylon. The boy told his father's supervising Captain he was proud of his father, but always feared that his father might one day get hurt because of his work.