Ex-LAPD officer charged in cadet sex scandal pleads no contest to San Bernardino weapons charges
By City News Service | Dailynews.com
January 19, 2018 at 1:30 pm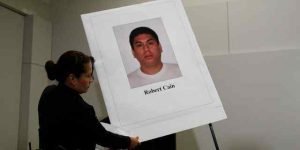 LOS ANGELES — A former Los Angeles Police Department officer charged locally with sex-related counts involving a 15-year-old girl from the department's cadet program pleaded no contest today to two weapons-related charges stemming from a search of his home in San Bernardino County's Rancho Cucamonga.
Robert Cain was immediately sentenced to two years in county jail and four years of supervised release following his plea in a San Bernardino County courtroom to one felony count each of manufacturing of an assault weapon and possession of multi-burst trigger device or "bump stock," according to his attorney, Bill Seki.
Read more here: https://www.dailynews.com/2018/01/19/ex-lapd-officer-charged-in-cadet-sex-scandal-pleads-no-contest-to-san-bernardino-weapons-charges/
Posted by
stef
on Jan 19 2018. Filed under
Good Cop / Bad Cop
. You can follow any responses to this entry through the
RSS 2.0
. You can skip to the end and leave a response. Pinging is currently not allowed.