L.A. County sheriff's investigators look into drug smuggling allegations against deputies
By Sam Quinones and Richard Winton (LA Times)
January 22, 2010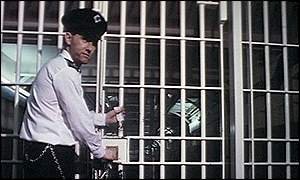 Los Angeles County sheriff's investigators have begun a criminal investigation into whether two deputies helped smuggle drugs into a gang leader's jail cell in 2003, officials said Thursday.
The investigation was prompted by testimony this week from another former boss of the Drew Street clique of the Avenues gang, based in northeast Los Angeles, officials said.
Francisco "Pancho" Real, a government witness, testified that while he was being held at a county jail facility, two deputies concealed drugs in a bedroll and sneaked them into the nearby cell of Rigoberto "Toker" Perez. Real identified the deputies by their last names but said he did not know their first names.
Sheriff's officials said they first learned of the allegations against the deputies from Real's testimony, and immediately opened a criminal investigation.
"We take these allegations very seriously," sheriff's spokesman Steve Whitmore said. The department's Internal Criminal Investigation Bureau is conducting the investigation with the assistance of the county watchdog Office of Independent Review, he said.
Sheriff's investigators have identified one of the accused deputies as Carlos Restrepo, who joined the department in 2001 and resigned in 2008, officials said. Whitmore said investigators are zeroing in on the identity of the other deputy, whose last name is Lee, according to Real.
Whitmore said it is likely the second deputy is also no longer with the department.
Restrepo was investigated in 2004 after a similar allegation in a separate incident, but there was insufficient evidence to prove misconduct, according to law enforcement sources familiar with both probes who spoke on the condition of anonymity because of the current ongoing investigation.
Both Real and Perez were leaders of the Drew Street clique, according to criminal complaints. Perez is awaiting sentencing after his conviction on federal gang and drug charges.
Real testified this week at a preliminary hearing in Los Angeles County Superior Court to determine whether there is sufficient evidence to try three alleged Drew Street members for the February 2008 killing of a man who was carrying his 2-year-old granddaughter. She was not harmed.
Sheriff's officials said the alleged drug smuggling by the two deputies occurred at the Pitchess Detention Center in Castaic. In an unrelated case, a deputy was charged last year with smuggling narcotics into the North County Correctional Facility, also in Castaic, where he worked as a jailer. He is awaiting trial and faces 12 years in prison if convicted.
Real's testimony also touched on another high-profile murder case allegedly involving members of the Avenues gang. He acknowledged under cross-examination by a defense attorney that he might testify at trial against four Avenues members and associates charged with the August 2008 killing of Deputy Juan Abel Escalante, who was fatally shot outside of his parents' home in the northeast L.A. neighborhood of Cypress Park.
Los Angeles Police Department detectives say that shooting was the result of mistaken identity, despite early concerns that Escalante had been targeted because he guarded some of the most violent gang members in the Men's Central Jail.
Real was the so-called shot-caller on Drew Street from fall 2007 until his arrest in June 2008 on federal racketeering charges. In a 157-page federal indictment, he was identified as overseeing an illegal scheme of murder, drug dealing, extortion and robberies.
He is a key witness in the L.A. County district attorney's case against Rafael "Stomper" Carrillo, Mike Mallari and Jose "Rival" Gomez. They are charged with shooting to death Marcos Salas, a 36-year-old Cypress Park gang member, who was holding his granddaughter in front of Aragon Avenue Elementary School in Cypress Park on Feb. 21, 2008.
Real is cooperating with prosecutors, hoping for a reduced sentence.
Posted by
lepak
on Jan 22 2010. Filed under
Good Cop / Bad Cop
. You can follow any responses to this entry through the
RSS 2.0
. You can skip to the end and leave a response. Pinging is currently not allowed.