5 cops arrested in crackdown on Tijuana drug gang
By ELLIOT SPAGAT and E. EDUARDO CASTILLO (AP)
02/09/10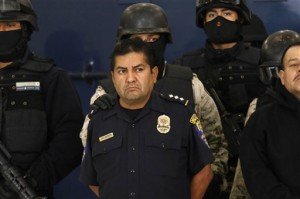 TIJUANA, Mexico — A crackdown on a vicious Mexican drug gang has led to the arrest of five Tijuana police officers, including two who had been at the forefront of the border city's efforts to rid the force of corruption.
The five officers were caught at a house along with six cartel members who were holding two rival gangsters captive, Ramon Pequeno, head of the anti-narcotics division of the federal police, said at a news conference Tuesday.
Pequeno said federal police raided the house Monday based on information obtained after the arrest of the two remaining leaders of the gang led by Teodoro "El Teo" Garcia Simental, the reputed Tijuana drug lord captured last month.
The capture of his two alleged lieutenants, including his brother Manuel Garcia Simental, dealt a crippling blow to a gang that had terrorized the city, which faces San Diego.
The gang was known for its brutality, having executed, beheaded and mutilated hundreds of rivals. Gang members pinned notes to corpses and dissolved bodies in caustic soda.
The two men found captive at the house belonged to the rival Arellano-Felix cartel, federal police said. Authorities say "El Teo" Garcia split from the Arellano-Felix gang in 2008, and fighting between the two gangs has been blamed for hundreds of killings in Tijuana.
The arrest of the five police officers is a setback for Tijuana Public Safety Secretary Julian Leyzaola's efforts to clean up the city force.
Two of the officers had been appointed just two months ago and had military backgrounds, a hallmark of Leyzaola's overhaul. One officer, Francisco Ortega Zamora, was named commander of Tijuana's La Mesa zone and the other, Juan Carlos Espinoza, was appointed his deputy.
As in other zones that Leyzaola has targeted in his makeover, all 125 officers under Ortega's command were transferred from other areas after extensive background checks. The zone got dozens of new patrol cars and radios that are difficult for drug traffickers to listen into.
"We trust his responsibility and his knowledge of police business," Leyzaola told several hundred residents at Ortega's December inauguration ceremony. "I'm sure you can count on a committed police force, a police force that will do its best to gain your trust."
About 130 Tijuana officers have been jailed on corruption charges in a force of about 2,000. An additional 250 have been fired or pressured to resign.
At a news conference Tuesday, Tijuana Mayor Jorge Ramos insisted the arrest of the police officers showed the government is serious about keeping the force clean.
He also noted the Garcia Simental brothers and the other cartel lieutenant were arrested in La Paz, a city at the southern tip of the Baja California Peninsula.
"It shows that they had no peace in Tijuana because of the actions of the three levels of government," Ramos said.
President Felipe Calderon hasdeployed tens of thousands of soldiers across the country to lead the crackdown on cartels. Drug violence has since surged, claiming more than 15,000 lives since Calderon took office in December 2006. Most were victims of turf wars between rival gangs, but police, government officials and journalists have also been targeted.
On Tuesday, a man's body was found hanging from a bridge in Zitacuaro, a town in the Pacific coast state of Michoacan.
A sign attached to the tortured body read, "This will happen to all those who keep extorting and kidnapping people." It was signed by "the resistance in support of the FM," a possible reference to Michoacan-based La Familia cartel.
Associated Press Writer Eliot Spagat reported this story from Tijuana and E. Eduardo Castillo reported from Mexico City.
Copyright © 2010 The Associated Press. All rights reserved.
Posted by
Chris
on Feb 9 2010. Filed under
Good Cop / Bad Cop
. You can follow any responses to this entry through the
RSS 2.0
. You can skip to the end and leave a response. Pinging is currently not allowed.