Alleged excessive force by LAPD caught on video
StreetGangs.com
November 9, 2006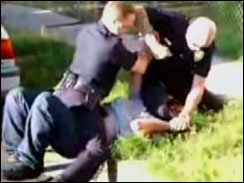 LOS ANGELES – Officer Alexander Schlegel and Officer Patrick Farrell were caught on camera punching William Cardenas, 23, last August. The video shows Farrell striking him at least six times in the face which contradicts the LAPD report that they filed after.
According to the arrest report, Schlegel said Farrell struck Cardenas after "the suspect continued to grab at my [Schlegel's] belt and waist." But the video shows that Cardenas' hands are not near Schlegel's waist or belt either before or after Farrell strikes him. The report also states that Cardenas was only hit him twice with a "distraction strike."
Both officers are on top of Cardenas, with Farrell's knee pressed hard against his neck. Cardenas is heard yelling "I can't breathe" as his arms squirm.
Posted by
StreetGangs.Com Staff
on Nov 9 2006. Filed under
Good Cop / Bad Cop
. You can follow any responses to this entry through the
RSS 2.0
. You can skip to the end and leave a response. Pinging is currently not allowed.