Long Beach police officer arrested for child porn
Streetgangs.com Staff
April 20, 2012 | 10:51 a.m. PST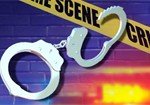 LONG BEACH, Calif.—Investigators say a Long Beach police officer has been arrested for child porn possession.
Officer Noe Yanez, a nine-year veteran of the department, came into contact with the minor in the course of his work and began contacting the victim via text messages, officials said in a statement. He subsequently solicited inappropriate photographs of the victim, they said.
Yanez was arrested Thursday and is being held at the Los Angeles County Men's Central Jail; his bail amount has not yet been determined.
The victim reported the incident to a school resource officer in April, and the Long Beach Police Department launched an immediate investigation, they said. The child's age and sex hasn't been disclosed
"Not only are the actions of this officer a violation of the law, they are a violation of the community's trust and a violation of the principles of this department," Long Beach Police Chief Jim McDonnell said in a statement.
Long Beach police department had a similar crime almost one year ago with another member of the police force, on April 27, 2011.
Posted by
stef
on Apr 20 2012. Filed under
Good Cop / Bad Cop
. You can follow any responses to this entry through the
RSS 2.0
. You can skip to the end and leave a response. Pinging is currently not allowed.