LAPD Officer Choked Estranged Wife 'Until She Passed Out': Prosecutor
By Melissa Pamer, KTLA Channel 5 News
May 22, 2013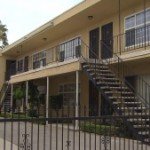 Jose Robert Figueroa, 29, appeared in Inglewood Superior Court on Wednesday, when his arraignment was postponed until June 4, according to a spokesman for the Los Angeles County District Attorney's Office.
In an interview at the door of her Inglewood home Thursday, his wife said in Spanish that Figueroa had tried to strangle her on Sunday.
With a black eye and bruises, she said she was very scared but believed God was with her and that was what saved her.
Deputy District Attorney Sam Ahmadpour said Figueroa threatened to kill his estranged wife in her apartment and "choked her until she passed out," according to a press release issued by the DA's office Thursday afternoon.
"When she awoke, she was tied up," the release stated.
A neighbor said she saw the woman's Inglewood apartment stormed by armed officers on Sunday night, but Figueroa was already gone.
Figueroa soon turned himself into to LAPD's Newton Division, where he is an officer, the DA's office confirmed.
Figueroa was charged with the attempted willful, deliberate and premeditated murder of his wife on May 18, according to a criminal complaint. The alleged victim, whom KTLA is not identifying because she may be a victim of domestic violence, confirmed that she is his estranged wife of seven years.
The couple have a 6-year-old son and are going through a divorce, the woman said.
Read more here: http://ktla.com/2014/05/22/lapd-officer-charged-with-attempted-murder-in-alleged-attack-on-wife-in-inglewood/#ixzz32Zr5LmX7
Posted by
stef
on May 22 2014. Filed under
Good Cop / Bad Cop
. You can follow any responses to this entry through the
RSS 2.0
. You can skip to the end and leave a response. Pinging is currently not allowed.