Ex-cop charged with hiding women's bodies in suitcases
By STEVE KARNOWSKI and DINESH RAMDE / Associated Press
June 26, 2014 9:00PM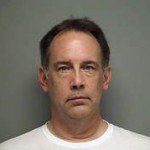 WEST ALLIS, Wis. — A former police officer suspected in the deaths of two women whose bodies were stuffed into suitcases and discarded on a rural Wisconsin highway met his victims online, in one case possibly through a bondage website, according to police and a criminal complaint.
Steven Zelich, a 52-year-old security officer, was charged Thursday with two counts of hiding a corpse. He was arrested the day before, when detectives wearing hazmat suits removed large, brown bags of evidence and a refrigerator from his apartment in West Allis, a Milwaukee suburb.
Highway workers found two suitcases containing female remains June 5 in the Town of Geneva, about 50 miles southwest of Milwaukee. Police identified one woman as Laura Simonson, 37, of Farmington, Minnesota. Authorities have not released the identity of the second woman but describe her as a white female with long, dark hair, a pronounced overbite and a small heart tattoo on her lower left abdomen.
Simonson was found naked except for a collar, with a rope around her neck and a ball gag in her mouth, according to the criminal complaint filed in Walworth County, Wisconsin. The other woman's hands were bound behind her back.
Read more here: http://www.suntimes.com/news/crime/28328775-418/ex-cop-charged-with-hiding-womens-bodies-in-suitcases.html#.U63dOkD4LMg
Posted by
stef
on Jun 26 2014. Filed under
Good Cop / Bad Cop
. You can follow any responses to this entry through the
RSS 2.0
. You can skip to the end and leave a response. Pinging is currently not allowed.