Woman punched by CHP officer files lawsuit alleging excessive force
By Kate Mather / LA Times News
July 17, 2014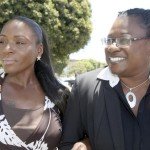 The woman punched by a California Highway Patrol officer earlier this month along the 10 Freeway has filed a civil rights lawsuit against the officer and head of the agency, her attorneys announced Thursday.
The suit, filed Thursday in federal court, alleges that the unnamed officer used excessive force against 51-year-old Marlene Pinnock on the evening of July 1.
"The punches, the brutality, the viciousness of the attack itself are all violations of her 4th Amendment rights to be free from excessive force," attorney John Burris told reporters Thursday.
The lawsuit further alleges that the officer and others conspired to "suppress the facts" of the incident, and that CHP Commissioner Joe Farrow allowed policies and practices that caused officers to believe such actions would go without consequence.
Officer Kerri Rivas, a spokeswoman for the CHP, said the agency does not comment on pending litigation.
Read more here: http://www.latimes.com/local/lanow/la-me-ln-chp-punches-lawsuit-20140717-story.html
Posted by
stef
on Jul 17 2014. Filed under
Good Cop / Bad Cop
. You can follow any responses to this entry through the
RSS 2.0
. You can skip to the end and leave a response. Pinging is currently not allowed.