Judge rules that cop Stephen Gerwer dismissed over ticket-quota scandal cannot get his job back
By Barbara and Bill Hutchinson / New York Daily News
September 05, 2013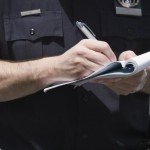 New York Police Department Highway Patrol Officer StephenGerwer, 41, of Staten Island, was fired without a hearing for violating his oath of office after he pleaded guilty last year to misdemeanor charges of falsifying business records.
He admitted writing bogus tickets to meet a quota of 15 tickets a day. Not only did he sink his once-unblemished 19-year career, he lost his pension, and cannot get his job back.
A Manhattan judge ruled Wednesday that a veteran cop summarily dismissed over a ticket-quota scandal cannot get his job back, but suggested the law be changed so cases like his would at least get an NYPD hearing.
Supreme Court Justice Shlomo Hagler rejected former NYPD Highway Patrol Officer Stephen Gerwer's suit, saying his hands were tied by a law that denied the cop due process.
Hagler suggested the state Legislature reexamine the Public Officers Law, which prevents a judge from overturning any penalty, even one that is "shocking to the conscience."
Posted by
stef
on Sep 5 2013. Filed under
Good Cop / Bad Cop
. You can follow any responses to this entry through the
RSS 2.0
. You can skip to the end and leave a response. Pinging is currently not allowed.